Watch: "The World's Worst Hangover!" - Tim Peake Lands Back On Terra Firma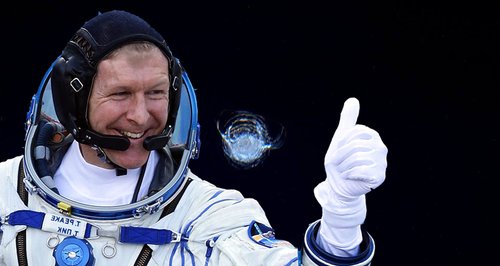 As the British astronaut bumps back to Earth, the whole world has been nervously waiting for his safe return.
Update 20 June:
As the British astronaut readjusts back to life on Earth, he reveals that life isn't all a bed of roses now he's back.
The astronaut says he's been feeling "pretty terrible" and has been suffering from dizziness since he hit Earth again, describing his sickness as "the world's worst hangover".
Peake also confessed that he missed the view from the International Space Station a lot. Aww bless!
Update 17 June:
The 44-year-old has been anticipating his return to his wife and family after six months floating high above our heads on the International Space Station.
However, on Saturday 18 June, he set to be land at 10.51 BST in Kazakhstan...and there's one thing he's looking forward to chowing down on above all else... PIZZA!
So to help him out, Papa John's have created a pizza with Tim's face on it to welcome him back to earth!
The pizza's ingredients will include pepperoni, cheese and, as a special addition, extra rocket - naturally!
Can we get in on that guys??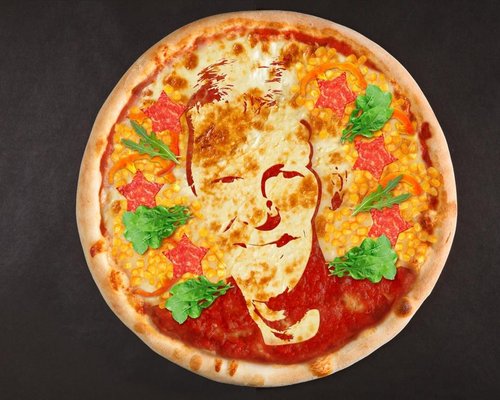 It sounds like Tim's has an awesome time during his trip:
"It's been a fantastic six months up here - a really remarkable, incredible experience.
I'm looking forward to coming home, looking forward to seeing my friends and my family, but I am going to miss this place."
Never Mind The Sunshine, Mr Peake Loves A Grey Day...Is The Man Totally Nuts?!
Tim Peake will be landing back on Earth's terra firm on Saturday June 8, after an incredible six months enjoying life on the international space station.
The 44-year-old astronaut surprised us all though, when he said he's looking forward to seeing a good old downpour and feeling that classic British 'cold drizzle' on his face.
There are no showers on the station however, as water is a very precious resource in space... so maybe this kinda makes sense!
Tim Peake Brings Us Out In A Cold Sweat With Space Station CRACK Picture!
The astronaut has taken a picture of a significant crack in one of the International Space Station windows...how is he so calm?!
When you're floating around in a metal tin can in the middle of space the last thing you want to see is a massive chip in the window!
Amazingly, that's exactly what the British space adventurer spotted in the International Space Station and he even shared a picture of the crack on his Facebook account.
He captioned the snap with, "Often asked if the International Space Station is hit by space debris. Yes – this is the chip in one of our Cupola windows, glad it is quadruple glazed!"
Thank goodness for that! Otherwise Tim's part of a horror story waiting to happen...
Tim Peake has been fighting aliens...but they're confined to a virtual reality headset of course!
The British astronaut was filmed by the European Space Agency playing a game of Space Invaders with NASA astronaut Scott Kelly and the results are pretty hilarious.
You can watch the video for yourself here...
Tim Peake will be carrying out his marathon miles on a treadmill in the International Space Station, but is hoping that runners here on Earth will take up the offer to train with him in the lead up to the event.
The astronaut will be the FIRST man to run a marathon in orbit on April 24th.
To help with the challenge Peake, 43, is using the Digital Virgin Money London Marathon for some of his training runs and will be tweeting the times of his training runs on @astro-timpeake, which will be retweeted by @LondonMarathon.
Peake, who is running the 26.2 mile marathon to raise awareness for The Prince's Trust, said: "It can be lonely pounding out the miles on the treadmill in the ISS.
"It would be fantastic to run with other people and see their avatars on my screen as I do my training. Only 50 days to go now!"
Will you be joining Tim?
He may be hundreds of miles above the Earth, but that doesn't mean British astronaut Tim Peake can't use Instagram!
The intrepid explorer is busy blowing our minds, especially when it comes to space breakfast.
This Is How You Make Eggs In Space…
Vacuum-packed eggs may not sound like your idea of a good time, but you just have to make do in zero gravity. Tim posted this video on Instagram showing how he rehydrates his brekkie…but what about the toast, butter and tomato sauce? Okay, we'd suck in space.
Check Out Tim Peake's Incredible Photos Of London
How incredible is this! Tim shared this photo of London at night on his Instagram and we have to admit it looks a little bit magical. Can you pinpoint where you live?
Tim Peake will makes history as the FIRST British astronaut to complete a spacewalk today when he sets off this afternoon from the International Space Station. Watch the walk live here!
Tim Peake's Space Walk In 7 Digestible Steps!
The spacewalk - known as Extra-Vehicular Activity (EVA) will last nearly six-and-a-half hours and is scheduled to begin at 12.55pm UK time.

Don't worry though, if you thought the space ranger would alone up there, he will be carrying out the mission with NASA colleague Colonel Tim Kopra, who will be taking part in his third spacewalk!

What will probably be the most mind-boggling for us earthlings to get our heads around, is that the pair will only have 45 minutes of daylight before night time. This is because the ISS orbits the Earth every 90 minutes.
Major Peake will start breathing pure oxygen two hours prior to the mission, because the pressure inside their suits is lower than that of the ISS. The astronauts will enter an airlock before opening its hatch and exploring outside.

Peake and Kopra will remain tied to Space Station supports, but their suits will have built-in jet packs that can be used if they accidentally drift away. (How very Buzz Lightyear!)

The pair will be heading to the solar units that need to be repaired, and they need to be completed in under THREE hours!

If they are ahead of schedule, the astronauts will be given "bonus tasks" (we wonder what these are?!)
It's no doubt the spacewalk will be tiring for the pair as they fight against the pressurised suits.
NASA astronaut Leroy Chiao, who carried out six spacewalks, told Sky News: "It's very physically demanding.
"You're working inside a pressure suit. Every time you move your arm or even your fingers it takes a bit of energy so you quickly build up a workload.
"You are really working against that pressure, you've got limited visibility, but you've practiced lots so you know how to move and you know how to get around."
While we all crave a little of bit of sun, too much exposure to sunlight can be dangerous for the astronauts and the pair will need to check on each other frequently and make sure their suits have not been damaged.
The ESA have also warned that the sunrises can also be "blinding for moments" from space. So something tells us your average pair of sunnies won't do!
Soon after arriving at the ISS in December Tim Peake said he was hoping to be assigned a spacewalk.
"I watched a sunset and a sunrise at different times. Looking out of the space station is incredible," he said.
"To think you might be out there on a spacewalk when that happens is going to be the most incredible sensation ever."