'Danger to life' weather warning issued to UK for the next 48 hours
31 May 2018, 16:50
Torrential downpours, thunder and lightning are set to terrorise Britain over the next 48 hours.
Forecasters are warning of 'danger to life' due to fast-flowing and deep floodwater caused by the predicted flash floods.
The Met Office has put in place weather warnings for heavy rain in southern England, The Midlands and Wales for the remainder of today, whilst overnight it will spread to cover the majority of the country.
Up to 3.1 inches of rain is expect to fall in the south overnight, with a further 3 inches tomorrow across all areas of England, Scotland and Wales.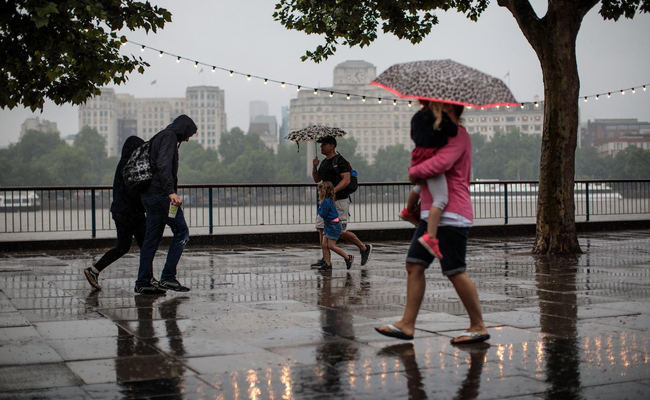 Credit: Getty - flash floods hit Britain earlier this week
The Met Office warn that southern England is likely to be hit the worst, but flooding 'could happen quickly' anywhere in the UK.
A spokesperson also said that Britain should be prepared for 'frequent lightning and large hail', which could lead to power cuts and disruptions to all modes of transport.
A month's worth of rainfall was felt in most areas of England a few days ago, which caused severe flash flooding and grounded many flights to and from the country.
But it's going to be far from cold, with muggy temperatures into the low 20's, and forecast experts are also expecting the dramatic weather to cease by the start of the weekend.
WATCH! Meet the brand new 2018 Love Islanders: