Freezing Fog Causes Travel Chaos As At Least 100 Flights Are Cancelled
24 January 2017, 10:32 | Updated: 24 January 2017, 10:34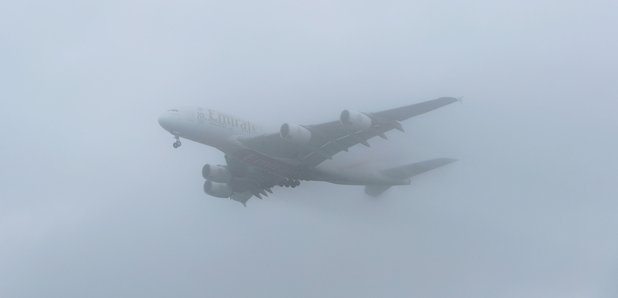 The continuing freezing temperatures and thick fog is causing major travel disruptions all over the country.
If you're heading off on holiday today then you might want to check your flight status before you leave.
Thanks to the continued freezing temperatures and the thick fog, Heathrow have had to cancel around one hundred flights for the second day in a row. Passengers flying from Gatwick, Southampton, Stansted and Edinburgh have also been told to expect delays.
Good morning, Isabel here. Stay #weatheraware as there's dense fog in the south today. Damp & breezy further north: https://t.co/a70feA0Qeq pic.twitter.com/AnlNaSgpPv

— Met Office (@metoffice) 24 January 2017
The Met Office have issued a fog and ice weather warning for Wales and most of England, whilst a yellow "be aware" warning is in place for Wales, the Midlands, Yorkshire and the Humber, North-West England and southern England and will remain in place until 11am on Tuesday.
The Heathrow spokesman said: "With Heathrow operating at more than 99% capacity, there are no gaps in the schedule that can be used for delayed flights and as a result, some passengers may experience disruption to their journeys.
"Passengers should check their flight status with their airline before coming to the airport."
Scotland's First Minister Nicola Sturgeon, who was due to fly to London on Monday, was among those delayed at Glasgow Airport because of the freezing fog in London. Flights from Edinburgh and Aberdeen airports were also affected.
There were 31 road collision in Dorset on Monday morning, six times the figure at that time on an average weekday, Dorset Police said.
A yellow severe weather warning for #fog and #ice has been updated: https://t.co/TmvTfmDfrK. Stay #weatheraware @metofficeuk pic.twitter.com/voP4A62aPC

— Met Office (@metoffice) 24 January 2017
The accidents happened before 10.30am, as fog and ice caused difficult driving conditions.
Forecasters have warned poor weather conditions could bring delays and disruption on roads during rush hour over the next few days.
Sky News weather presenter Kirsty McCabe said: "There will be patchy frost, especially towards southeast England where dense and freezing fog will form again.
"During Tuesday, the fog and freezing fog will be slow to clear, making for another cold day in the South East."
Remember to stay safe and check the roads before you leave the house.