Freezing Temperatures Make Britain As Cold As ICELAND
23 January 2017, 10:24 | Updated: 23 January 2017, 10:46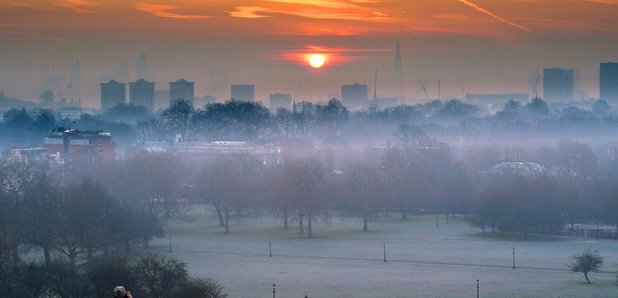 As temperatures drop sub zero, Britain could be seeing a colder week than Iceland.
If you've been out on the roads this morning, you'll have noticed that the freezing cold temperatures and dense fog are causing travel chaos.
With temperatures all over the country dropping to below zero over night and today day being recorded at around 4°C, Britain is set to be as cold as Iceland, where the lowest temperature is set to be 0°C on Wednesday.
It's been a bitterly #cold night for many with dense #freezing #fog- these early stats show some of the lowest overnight #temperatures pic.twitter.com/BiroGsrmfv

— Met Office (@metoffice) January 23, 2017
The unrelenting freezing fog that has descended on towns across the UK, has caused major travel disruptions including the cancellation of flights at a number of London airports, including Gatwick, Heathrow and City.
The Met Office recorded the lowest overnight temperatures as -7.1°C in Katesbridge, Northern Ireland, -6.9°C in Benson, Oxfordshire and -6.3°C in Northolt, London.
The -7.1 °C recorded at Katesbridge makes it the coldest night of the winter so far for Northern Ireland

— Met Office (@metoffice) January 23, 2017
A yellow fog warning has been issued for this morning but freezing temperature and low winds are likely to continue in to the afternoon.
Met Office forecaster Mark Wilson said: "Heathrow is currently on 100 metres' visibility, which is very dense fog, Gatwick is on 100 metres, London City Airport is on 100 metres and Stansted is on 100 metres."
"It looks like it will generally improve through the last part of the morning and into the afternoon, but one or two spots will hang on to fog for much of the rest of today."
Commuters and holiday makers are being advised to check their routes before setting out on their journeys.