The Solar Eclipse 2015: Everything You Need To Know!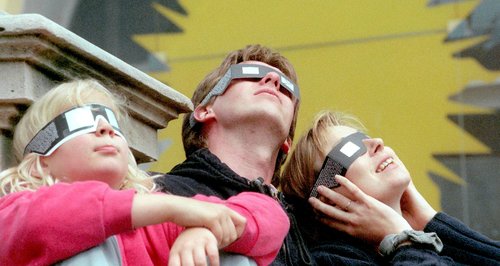 From streaming the partial eclipse online, to a dummy's guide on how to make your very own pinhole camera at home, find out exactly how to catch this Friday's natural phenomenon first hand!
Watch It Live:
Want to see the wonder this natural phenomena, but stuck at work this Friday? Well thankfully The Virtual Telescope Project have come up with a way to stream the event online!
What Is A Solar Eclipse?
Essentially a solar eclipse occurs when the moon passes between the earth and the sun, shielding the bright orange ball from view and preventing it's light from reaching us.
Which looks a bit like this...
"Oooh ahhhh!"
Where You Watch It In Your Area:
You can catch this celestial event on March 20th 2015.
The upcoming eclipse will be a partial one and will kick in around 8.21am, ending at 10.41am.
Peak viewing time:
Penzance: 09:23
London: 09:30
Belfast: 09:30
Birmingham: 09:31
Leeds: 09:33
Edinburgh: 09:35
Safety First:
WARNING: You should NEVER look directly at the sun without special safety equipment, as this can result in permanent or partial damage of your eyes.
There is no safe system to directly view an eclipse, so do not look directly at it. Particular care should be taken with children. Children should not be allowed to look directly at the sun at any time.
However, fear not! There are plenty of brilliant alternatives you can use, many of which you can create from stuff you'll already find lying around!
Make your own pinhole projector!
Grab a couple of pieces of white card and stand facing away from the eclipse. Create a tiny hole in the centre of one of the pieces of card and hold it up so that the eclipse shines through it.
Then hold the second card and use it as a screen on which to project the light. The image on the second piece of card will be safe to look at.
Here's the idea:
Use your Solar Glasses:
Even a mirror will do:
Pierce a 5mm hole in a piece of card and place it over the top of a mirror which should be sloped at an angle. When the sunlight catches the mirror it should project an image onto another piece of card or a wall.
If all else fails, throw the kitchen sink at it:
…well maybe not literally, but you can use a colander to watch the eclipse too. Simply stand with your back to the sun and hold the silverware up above your head. The holes in the appliance will project the image of the eclipse onto a wall in front of you.
A Few Fun Things You Didn't Know:
The last partial eclipse occurred in 1999.
This Friday up to 98% of the sun will be blocked out and most of the country will be thrown into a morning twilight.
The darkness will be greatest in Scotland.
The next partial eclipse will not take place in Britain for another 10 years, on 12 August 2026 and the next total eclipse which is scheduled for 2090 won't occur in most of our lifetimes!