There's Going To Be Snow As Arctic Blast Hits The UK
9 January 2017, 12:05 | Updated: 13 January 2017, 10:16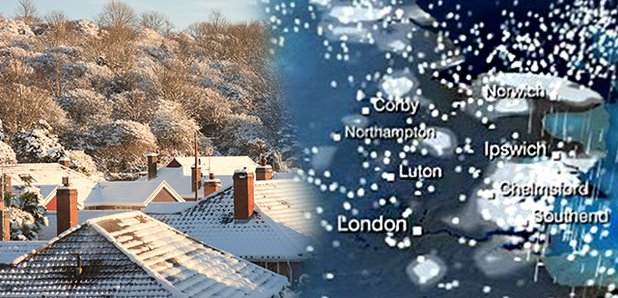 Meteorologists are warning commuters to expect major travel disruptions as an arctic blast brings ice and snow to the UK.
It may have been a mild weekend but don't be fooled. temperatures are set to plunge well below zero this week as an Arctic blast sweeps across the country.
Large areas of Britain are expected to be covered in several INCHES of snow, after a bitterly cold northerly wind will hit parts of the country on Wednesday evening.
The #Jetstream will bring unsettled weather this week, moving southwards from midweek bringing #cold #Arctic air and the risk of #snow pic.twitter.com/6kMpEY4Cmo

— Met Office (@metoffice) January 8, 2017
According to the Met Office, the cold blast will hit the northern Scotland and the north sea coast first before heading south towards Northern Ireland, parts of Wales, Devon and Cornwall.
The weather forecasters have warned that this weekend could be a cold one, nationwide.
From Friday, the whole of the country could see freezing storms bring two to four inches (5 to 10cm) of snow and temperatures could drop as low as minus twelve degrees Celsius in parts of Scotland.
Whilst the idea of snow is fun, it's also important to remain safe. The Met Office has warned commuters to expect heavy traffic delays as thick ice and snow are likely to disrupt services across the country on Friday.
Now that's quite a view from the office! Our engineers maintain weather stations across the UK, even at the top of Cairngorm! pic.twitter.com/8M3VCwxLbQ

— Met Office (@metoffice) January 8, 2017
Forecaster Marco Petagna said: "We could see the coldest day of winter on Friday. A cold front moving in from the Atlantic will bring heavy frost and frequent snowstorms.
"It is likely that five to ten centimetres of snow will come in from the north and fall as far as the south of the country on Friday, and there could be even thicker snow in the hills.
"Daytime temperatures on Wednesday will be around four to six degrees C (39 to 43 F) but harsh winds will make it feel as if temperatures are well below freezing.
"Temperatures will become increasingly colder throughout the week and by Friday it is likely that nighttime temperatures will be as low as minus 2C (28F)."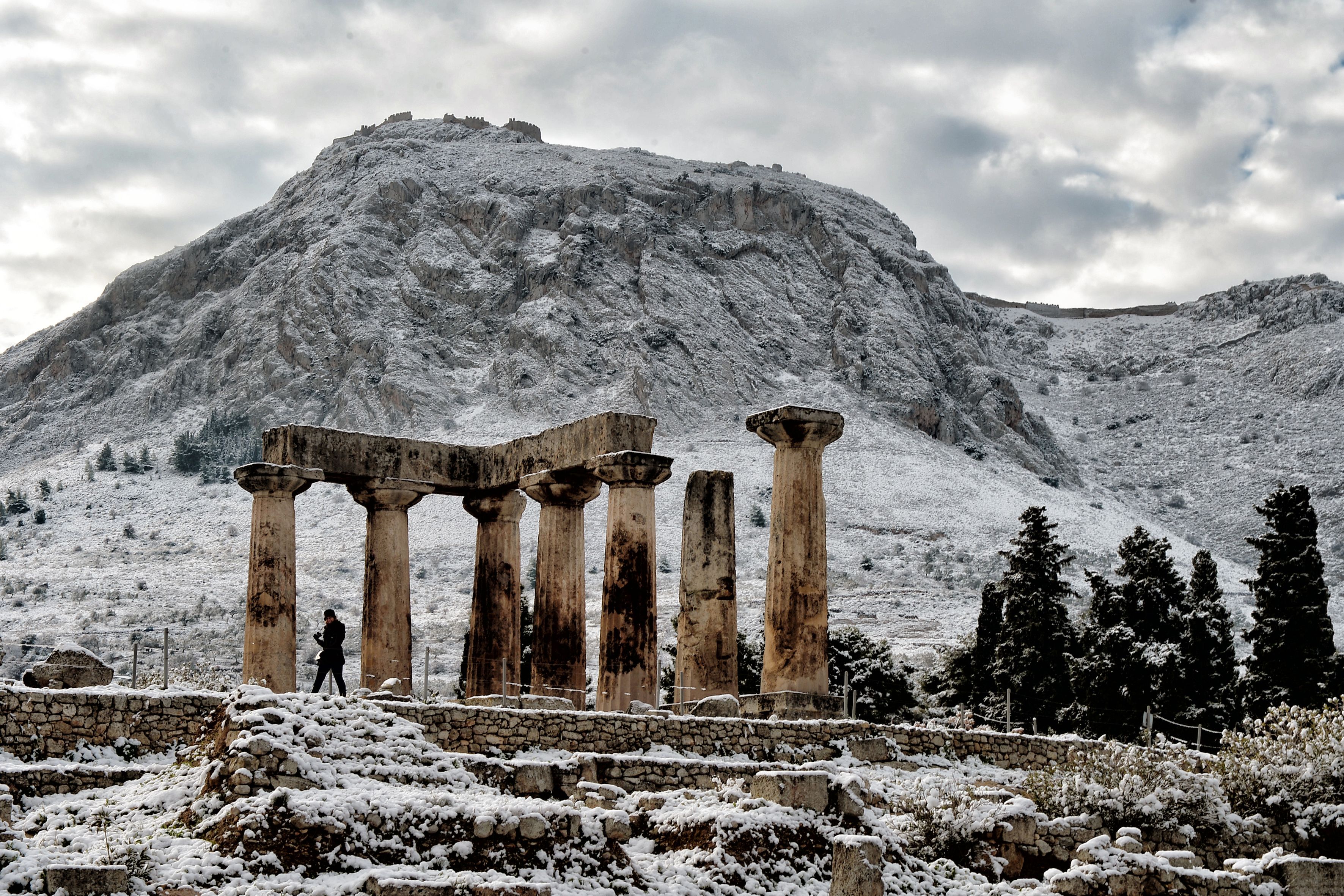 The Parthenon in Greece is covered in snow. Picture | Getty
The artic blast has already hit Europe, as some of the continents key landmarks have been covered in a layer of snow.
The temple of Apollon in Ancient Corinth is sprinkled in ice and snow, whilst in Istanbul in Turkey, Eurasia, residents attempt to continue every day life amongst the freezing temperatures.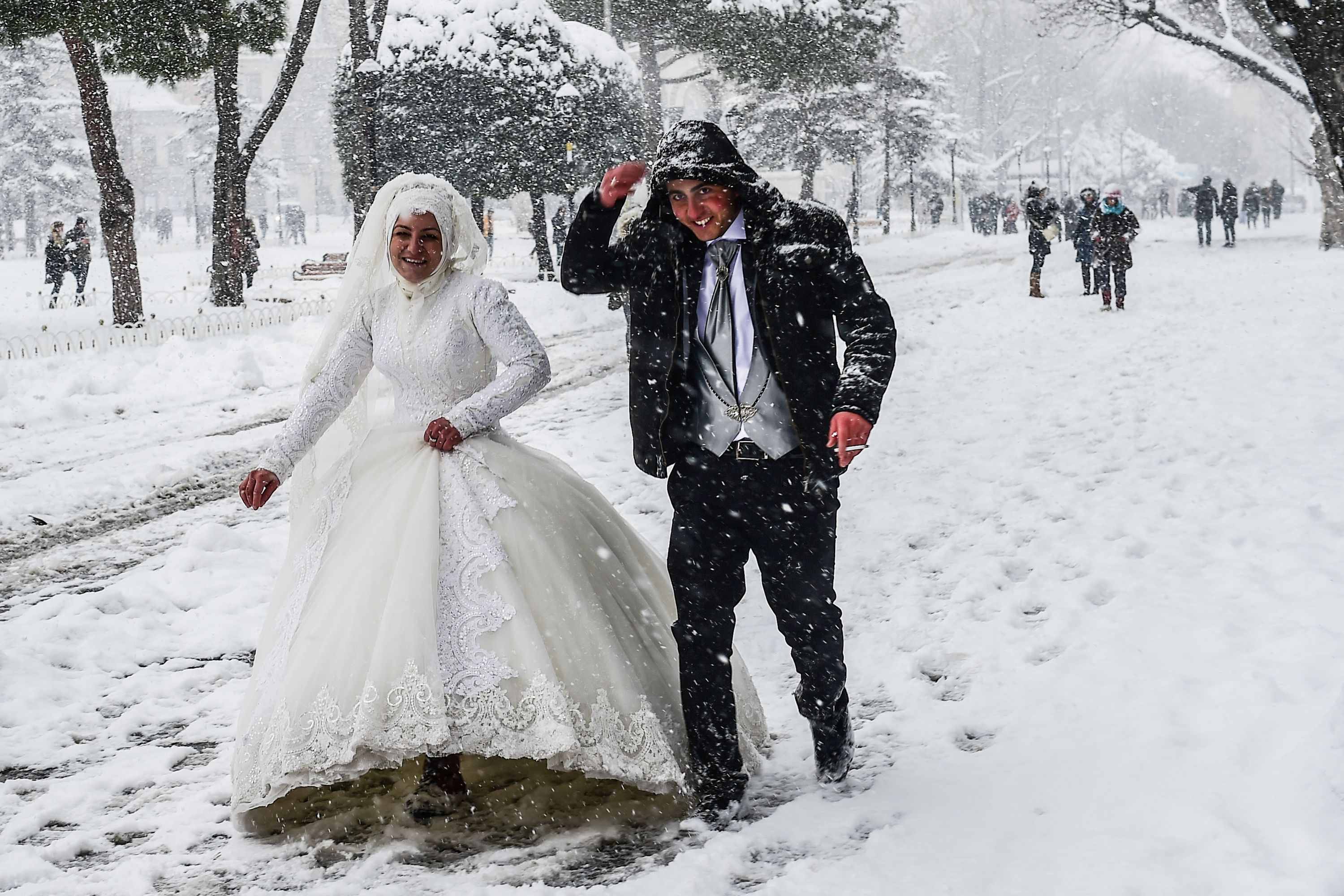 A newly wed couple take to the streets in Istanbul, Turkey. Picture | Getty