Buxton: Two Jailed After Bomb Plot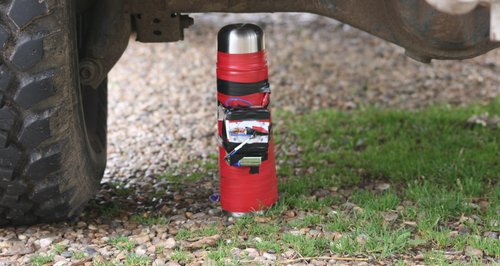 Two men have been jailed for their parts in a plot to blow up a car and its occupants in Buxton in Norfolk.
Jonathon Taylor placed the device made by Paul Gregory under a car in a garden on Coltishall Road on Sunday 2 September 2012. Taylor was driven to Buxton by Milos Gontkovic, who then lied to police and a friend whose car he had taken about where he had been.
The device was found at around 11am that morning beneath a Toyota belonging to Taylor's ex-girlfriend's new partner. A 100 metre cordon was put in place around the scene and six properties were evacuated. Army Explosive Ordnance Disposal (EOD) and SO15 counter-terrorist officers examined the device and were able to remove it safely. It was sent for forensic examination and was found to be a potentially viable pipe bomb.
Taylor, aged 50 and of Southwell Road in Norwich, was arrested the following morning, and when police searched his flat various items were found including a stun gun and a wrist watch which can make audio recordings. One recording was of Taylor discussing how to make a bomb, showing others a mixture of explosives and saying how he was going to put it under a car.
Taylor was charged with doing an act with intent to cause an explosion likely to endanger life or property and was remanded in custody. On 17 December 2012 at court he admitted this charge, plus possession of a prohibited weapon.
Gontkovic, who is 26 and of no fixed address, was also arrested on 3 September 2012. Text messages on his mobile phone claimed that Taylor was going to pay him to carry out a job 12 miles away from Norwich. Gontkovic had tried to get a friend to go with him so he could use his car but he refused; Gontkovic took the car anyway.
Gontkovic told police he had only driven around Norwich with Taylor, but inquiries established they had driven out of the city and had used more petrol than would have been consumed on a journey of five miles or less.
On 16 January 2013 Gontkovic was charged with doing an act with intent to cause an explosion likely to endanger life or property and was remanded in custody. On 11 April he admitted assisting an offender and giving police a false statement and the original charge was not proceeded with.
The explosives were supplied to Taylor by Paul Gregory, a 30-year-old of Middletons Lane in Norwich who is also known as Paul Boom Boom. In December 2012 a warrant was executed at his home and EOD officers identified chemicals, literature and tools which could be used to make explosives. A diagram of a pipe bomb was also found.
Gregory admitted making an explosive mixture for Taylor and gave him a flask, wiring and tape. He was charged with possession of an explosive substance for an unlawful purpose, which he pleaded guilty to in court on 9 March 2013 along with making an explosive device.
On Friday 31 May at Norwich Crown Court, Taylor was sentenced to seven and half years in jail and Gontkovic was given two and half years.
Investigating officer Detective Sergeant Sarah Knights said: "The device could have caused serious damage to life and property, and it is fortunate that it was spotted before the vehicle was driven. Taylor spoke of blowing a car sky high above the height of a house and used the promise of cash and drugs to get his accomplice to participate in his plan.
"Taylor and Gregory are dangerous individuals who thought nothing of making, storing or using explosives. Gregory has not only endangered people in Buxton by providing explosives, but he has also risked the lives of those living near him as more of the explosive compound was found concealed in his house.
"Gontkovic was drawn into his plot and tried to drag others in with him. Whilst he was not directly involved with the explosives, he was instrumental in transporting Taylor to plant the device. He then did not alert anyone to what had happened, instead lying to police when questioned about his movements.
"I am pleased with the outcome with these men serving lengthy custodial sentences. This is a very rare occurrence targeted at an individual, and I would like to thank the Army EOD team and the Metropolitan Police's Counter Terrorism Command for their help in safely removing the device from Buxton and the various items from Gregory's home."