Norfolk and Suffolk Teacher Strike
1 October 2013, 05:38 | Updated: 1 October 2013, 07:11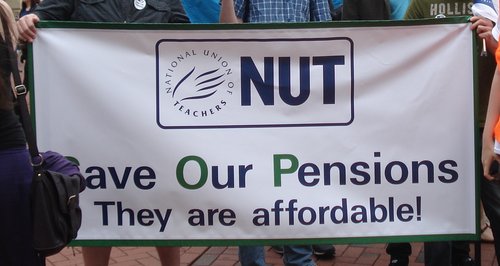 Thousands of children won't be able to go to class today in Norfolk and Suffolk as teachers strike over pay, pensions and working conditions.
The industrial action - the latest in a wave of regional strikes - has been organised by two of England's biggest teaching unions, the National Union of Teachers (NUT) and the NASUWT.

The Government has condemned the move, saying it is `disappointed'' the unions have decided to strike.

The walkout will affect schools in 49 local authorities in East of England, the East Midlands, West Midlands and Yorkshire and Humberside.
Why are they striking?
Excessive workload and bureaucracy

Cuts and other changes to teachers' pay

Changes to pensions

Job cuts
NASUWT general secretary Chris Keates said: ``The overwhelming majority of teachers in four regions will be on strike today.

``Strike action is a last resort, teachers have been left with no choice but to demonstrate their anger and frustration in the face of their genuine concerns being dismissed and trivialised.''

NUT general secretary Christine Blower said: ``No teacher takes strike action lightly but the intransigence of this Education Sectary has left teachers with no choice.

``We cannot stand by and watch our profession be systematically attacked and undermined. There needs to be a change in the Government's attitude to teachers and education.''

A DfE spokeswoman said: ``It is disappointing that the NUT and NASUWT are striking over the Government's measures to allow heads to pay good teachers more.''

Plans for a national one-day walkout before Christmas have also been announced by the two unions.
Councillor Lisa Chambers, Suffolk County Council's cabinet member for education, skills and young people, said:

"This is a national argument between the unions and the government and Suffolk children should not be dragged into it. Many people will ask how teachers can justify going on strike over pay and workload concerns at the same time as wanting to improve educational attainment.

"On the relatively rare occasions that teachers go on strike, we support heads and encourage them to plan ahead and aim to keep schools open wherever possible. We know that many teachers won't actually want to strike and will work with heads to keep their schools running.

"We would certainly urge negotiation and discussion rather than strike action and hope to see as many Suffolk schools as possible remain open."