UEA: Divers Begin Searching Lake After Woman's Body Found
6 August 2013, 12:57 | Updated: 6 August 2013, 13:00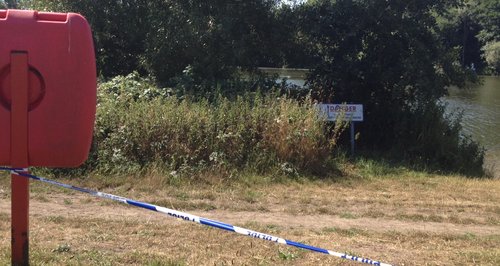 Divers have begun a search of the University of East Anglia lake in Norwich where the body of a woman was discovered last week.
A section of the UEA Broad is being searched by divers from Norfolk Fire and Rescue Service, which started shortly before midday today, Tuesday 6 August.
Local PCSOs will be on site advising people about the searches and movement will be restricted in the area to allow these to take place.
It comes a day after police released an image of the woman's clothing - a black dress featuring a large rose pattern design in peach/cream.
Detectives released the image in the hope it may trigger calls concerning the woman's movements, which remain a mystery following the discovery of the body at about 8.40am on Thursday 1 August.
Detectives Inspector Richard Graveling, from Norwich CID, said divers would be searching the lake for personal items which could have belonged to the woman.
He said: "The water is being searched to recover any personal items such as a bag or purse which could have belonged to the woman and in turn reveal her identity.
"Officers have carried out land searches of the immediate area which have failed to uncover anything which could assist the investigation."
Divers are expected to be on scene for several hours into the early evening.
Yesterday, officers confirmed that to date no evidence had come to light in the investigation which suggested the woman had been the victim of violence or that a third party was involved.
DI Graveling added: "We are keeping an open mind as to the circumstances surrounding the discovery and hope the water will assist in our enquiries."
Police continue to appeal for information concerning any sightings of the woman who is described as white, 5ft 7, of slim build and aged in her late 30s/early 40s. She had short dark brown hair with a natural wave, which had been dyed auburn/dark red.
Anyone with information should contact Norwich CID on 101.