Church's To Take Over Old Bus Depot
11 March 2014, 11:34 | Updated: 11 March 2014, 13:48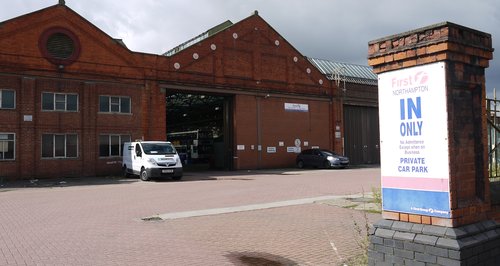 Prestige shoe firm Church's is set to press ahead with its' expansion plans after Northampton Borough Council helped secure the land.
The world renowed shoe firm worked with the council and the Homes & Communities Agency, along with private landowners to assemble a 4.5-acre site adjacent to the company's headquarters in St James.

Stephen Etheridge, Church's chief executive, said: "This transaction secures Church's future in St James and provides us with space we need to expand and grow. The company intends to submit a planning application for the multi-million project in May and work is expected to start on site by August. The first phase of the new facility could be in operation by Christmas 2015.

Church's, which is owned by the Prada Group, already employs 650 people, many of whom are highly-skilled. Apprentices form a significant part of the company's plans for the new facility. 140 jobs could be created."

Councillor David Mackintosh, leader of Northampton Borough Council, added: "Church's is an iconic brand and operates on a global stage. In recent years the company has expanded its retail arm and now had over of 50 stores across Central and Northern Europe, America, Hong Kong, China Singapore and Japan.

The company is already a major employer in Northampton, preserving skills which originally put Northampton on the map, and it is set to take an even bigger role in the town's future."

The new facility will be built on a site previously occupied by FirstBus plus a few smaller parcels of land including an under-utilised area to the rear, off Lincoln Road. It is likely the bus depot frontage and old Northampton Corporation offices will be retained as part of the development, recognising the area's heritage.