Rothersthorpe Body Verdicts
8 August 2013, 11:37 | Updated: 8 August 2013, 12:08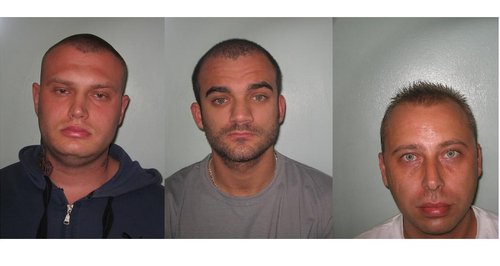 Three men have been jailed for their part in the murder and kidnap of a Polish man whose body was found dumped in a field near Northampton.
The body of Andrzej Kulesza, 27, was discovered near Rothersthorpe on Easter Monday 25 April 2011. A ligature was found around the body's neck. He had earlier been beaten with a metal bar.
Andrzej's body had been driven from London to Northamptonshire more than six months earlier. The body was found by a dog-walker.
Kamil Dreszer, 27, of Greenhill Park, Willesden, London (pictured, on the left) was found guilty of murder, kidnapping, false imprisonment and preventing the lawful burial and disposal of a corpse. He was jailed for life to serve a minimum of 22 years.
Artur Janik, 27, of Willowmead Close, Goldsworth Park, Woking (centre) was found guilty of manslaughter, kidnapping, false imprisonment and preventing the lawful burial and disposal of a corpse. He was sentenced to 11 years in prison.
Daniel Kosowski, 40, of Henry Adlington Close, London E6 (right) was found guilty of preventing the lawful burial and disposal of a corpse and was jailed for 30 months.
Grzegorz Misiak was arrested and released on bail in connection with Andrzej's murder but died in a car crash in Poland in July 2012. He had been extradited to Poland on matters of extortion, fraud and assault.
Missing
Andrzej had been reported missing to Tottenham police by his girlfriend after leaving home in Stamford Hill, N16 at about 8am on 19 September 2010. He said he was going out to buy milk and bread at the local shop but never returned home.
The Old Bailey heard that Andrzej was involved in dealing drugs - cannabis and amphetamines - and was in debt to a man called Grzegorz Misiak. He feared for his safety.

A group of men, including Dreszer, forced their way into the home of a friend of Andrzej's at around 4am on 19 September 2010. They beat him with a bicycle lock, knocking out two teeth, and threatened him with a knife to reveal where Andrzej was.

The friend's mobile phone was stolen and used to call two more associates of the victim in the hunt for him.

The stolen phone was then used to text the victim - it's not known what the message said but it drew Andrzej out from his home address.

Evidence suggests that the kidnappers then took the victim to an address in Greenhill Park, London NW10.

The victim's girlfriend grew increasingly worried and started calling friends and acquaintances. She was finally told he had been kidnapped and she would need to pay a ransom.

She was then contacted by Andrzej who pleaded with her to help him and provide cash. He was crying and screaming and said his kidnappers were threatening to kill him.

The victim's girlfriend borrowed £300 from a friend and handed over the cash to another man at a rendezvous point off the North Circular Road at Edmonton.

Promises were made that Andrzej would be released but more demands for cash were then made. Another £500 was demanded but then the calls abruptly ended.

Evidence indicated that Andrzej was beaten with a metal bar, spat on and force-fed amphetamines and alcohol while inside the address. He was ordered to do press-ups and when he couldn't was beaten again.

In the early hours of 21 September 2010, it is believed that Janik, Kosowski, Dreszer and another man collected the victim's body and travelled to Northants before returning to London.

A member of the public walking her dog found his remains in a field near the A43 at Rothersthorpe outside Northampton on 25 April 2011. The field had contained very tall elephant grass which had recently been harvested and may have disturbed the bones. An entire skeleton was pieced together and DNA tests proved it was Andrzej's.

A post-mortem examination failed to establish a cause of death but there were several fractures to the bones and a ligature - a black webbing strap - was round the neck.
Investigating officer Detective Chief Inspector Andy Chalmers, from the Metrpolitan Police Homicide and Serious Crime Command, said: "The three defendants, seeking revenge for a debt, kidnapped and tortured the victim before dumping his body in a remote location, presumably imagining it would never be found.

"They acted in an appalling manner and one can only imagine the physical and emotional trauma Andrzej suffered during the hours he was held captive. I am satisfied at these convictions."