Food, drinks, & fashion tips for the office Christmas party
13 December 2017, 16:07 | Updated: 16 January 2019, 15:32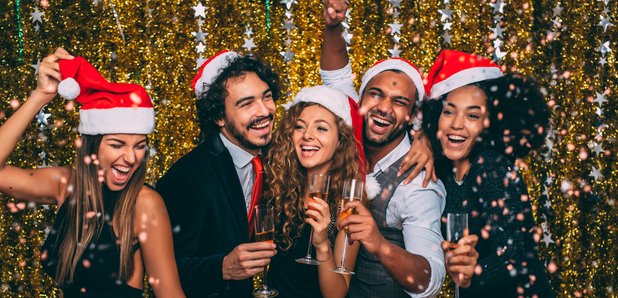 The best spots around the North East for your office Christmas Party - enjoy the finest festive food and drink after another year of hard work!
In our Heart Christmas calendar, this week it's all about the office Christmas party! Whether it's cosy drinks with a three-course meal, or a full-scale party with dancing all night, we have a must visit list for the festive season…
The Office Who Love to Dance:
Head on down to Newcastle Quayside where the only rules are; singing, dancing & sipping on cocktails. It's the place of Christmas party dreams for those of us who love to dance and soak up the festive fun. Check out the "Book of Hornsby", whereby every chapter is a different style of cocktails. Clink clink.
Yarm's faveourite cafè bar offers up the perfect venue for the start to your evening. Head along here for great music, wonderfully Christmas cocktails and a dance with the work team. Get your camera ready to capture those jaw dropping dance moves from your colleagues!
View this post on Instagram
The Office Full of Foodies:
A mouth-watering festive feast not to be missed! Sunderland's meat, seafood and rum restaurant is nestled right in the hustle and bustle of town, so it's within easy stumbling distance to the next bar after some great food and plenty of vino! A-Hoy sailor!
If steak a winner in your office, Hartlepool's Black Olive is somewhere Santa would definitely approve of! Offering up scrumptious steak, burgers and pork dishes this is the home of meat lovers who also enjoy washing it down with a big glass of red or cocktail or two!
View this post on Instagram
The Office Who Wants Something Different:
We would also highly recommend a cocktail masterclass at The Botanist. Specialising in drinks of every caliber, their packages range to suit all workplaces. You need to get in quick before all their spaces book up!
View this post on Instagram
It's bowling like you've never seen it before for the very good people of Middlesbrough and Newcastle. Think walnut lanes, American pool, retro arcades and ping pong, all in the best bar you've ever been to. With a new bar in place, let the drinks and the bowl flow with you team on this alternative festive night out.
STACK is a container village like no other...packed with a wide range of stores for all of your festive shopping needs! Head on down to sort the Christmas list at Longsands Clothing, Fourteen Drops, Lolly Bomb, Uncaptive Clothing, Pet Stop, For the Love of North, House of Botanics and Beer Box to name a few. As well as shopping, it's one of Newcastle's go to destinations to grab a bite to eat, with quality independent food vendors like Coffee Yolo, Hatch 76, Hungry Vegan and Cluck Cluck Moo.
The Office Who Love Their Style
With shops like H&M, Lush and RiverIsland - what's not to love? It's time to capture your festive look, but watch out, a lot of stores have already started slashing prices so you could be in for a bargain!
Fenwicks shop windows are full of sparkle and faux fur this Christmas for all the Hollywood glam - Oh and check out the amazing "We're Walking in the Air" windows too! For that extra special treat and festive style inspiration, there truly is no better place in the North East.
The tables are booked, now it's time to decide what to wear! We're feeling inspired by New looks midi dress for an elegant look...
For the Gents
We can't get past a classic three piece! Next will get you sorted this Christmas with something a bit extra special
Needing Inspiration?
If you can't face the winter weather, check out this online look book for some style inspiration with all the key trends for that perfect Winter 18 look!