Chief Hits Back Over 'Untrue' Informant Claims
10 August 2017, 16:08 | Updated: 10 August 2017, 16:13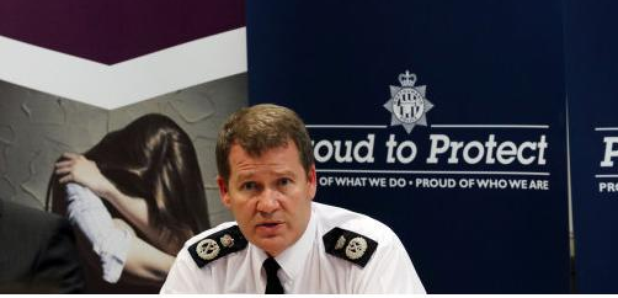 A police chief has hit back at "untrue" claims that a convicted child rapist paid to help snare a paedophile gang was placed "in the midst" of vulnerable women and girls.
Northumbria Police Chief Constable Steve Ashman accepted officers faced a "moral dilemma" over the £10,000 paid to the sex offender, known only as XY, in helping secure convictions.
A total of 17 men and one woman were convicted of or admitted charges including rape, supplying drugs and inciting prostitution, in a series of trials at Newcastle Crown Court.
Responding to criticism - including accusations from an "appalled" NSPCC that police planted the informant - Mr Ashman said: "It's quite surprising and disappointing for the NSPCC in particular to adopt the stance they have.
"This is an ill-informed position that they've taken. The fact of the matter is we absolutely did not plant XY, the informant, in the midst of vulnerable women and girls.
"Not only did we not ask him to do it, there's no evidence whatsoever that he was engaged in offending against these victims or anybody else."
He said use of XY was to find who the suspects were, their addresses, and what criminal behaviour they were involved in.
He said: "I absolutely understand that this is challenging for some people but I'm left with a question that I throw back - not to be clever or to evade the issue - what would you do in those circumstances?
"Would you take that risk under carefully managed circumstances, that doesn't expose him to vulnerable women and girls? Is that the right thing to do? Morally does that weigh up? To me, it does.
"Some people might disagree with that, I get that - it's a problem that we wrestle with ourselves - but I've got to be content on the back of 93 convictions, over 300 years of imprisonment, without the verdicts that we received yesterday, this was the right thing to do overall."
Asked whether the informant was necessary to gain convictions, he said: "You might have got that evidence through other means but it might have taken a whole lot longer and that in itself would have exposed vulnerable women and girls - given the scale of this - to an unacceptable level of risk, and personally that doesn't sit comfortably morally with me either."
Jim Gamble, who set up the Government's taskforce to fight child sexual exploitation, criticised the police move.
He said: "I think all police forces are under pressure to get things right.
"But there are ways and means to doing it ... there need to be limits and there should be lines that shouldn't be crossed.
"In my opinion they have gone way over the line on this one.
"Personally, I can't envisage any circumstances where I would have authorised payment to someone convicted of rape.
"I can't imagine how you could have control mechanisms in place with an informant of that type ... that would give you reassurance that they didn't still represent a risk to young and vulnerable women, given what I know about this person's history."
A total of 461 people have been arrested as part of the investigation, while 782 potential complainants have been spoken to and 278 victims found.