Durham Miners' Gala Takes Place Today
8 July 2017, 06:00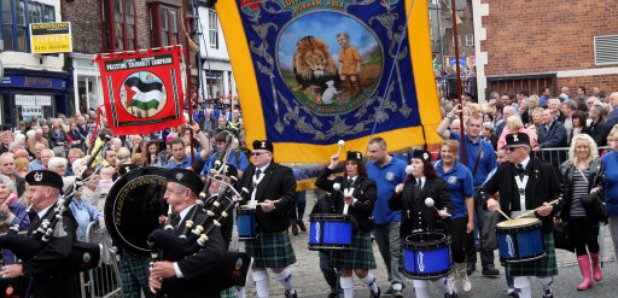 Thousands are expected at Durham Miners' Gala later. It's known as the Big Meeting and is one of Europe's biggest trade union events. Brass bands will be marching through the city and Labour Leader Jeremy Corbyn will give a speech there.
Police patrols will be stepped up across the weekend including armed officers
Chief Superintendent Colin Williamson said:
'Following the recent terrible events nationally and worldwide, Durham Constabulary has been reviewing its response to all ongoing public events, including Durham Miners'Gala.
'In conjunction with partners, such as Durham Miners' Association, it has been agreed that there will be an increase in police staff at the event, both armed and unarmed.
'As a result, people may see an armed police presence at access points around the city, in the Market Place, North Road, Old Elvet around the Royal County Hotel area and in and around the cathedral.
"These measures are not in response to any specific threat but are there to reassure members of the public of the security measures we have in place to help protect you and keep you safe.
'We look forward to welcoming you on Saturday and hope everyone who attends the event has a fantastic day.'
Meanwhile motorisits are being urged to keep the roads across Durham city centre clear or they face the risk of having their vehicles towed away.
A number of streets will be closed.
No vehicles - not even bicycles - will be allowed on the following routes between 6am and 8pm:
Framwellgate Bridge, Market Place, Saddler Street, Owengate, North and South Bailey, Dun Cow Lane, Bow Lane, Silver Street, Elvet Bridge and New Elvet Bridge, Territorial Lane, Green Lane, Elvet Waterside, Court Lane, Elvet Crescent, Old Elvet New Elvet plus Pelaw Leazes to Baths Bridge.

Church Street, Hallgarth Street and Whinney Hill will also be closed to vehicles but some residential access only will be maintained when possible.
North Road (between the junction with Black Western Hill and A690 junction), Flass Street and Sutton Street will be closed between 6am and 10am, and again between 3pm and 8pm.

Due to safety considerations, this year the road closures have been extended to include the following between 6am and 8pm:
Claypath (between Prince Bishops Car Park and Providence Row) and also the one way eastbound slip road from A690 to Claypath and North Road (between its junctions with Framwellgate Bridge and Milburngate), North Road (between its junctions with the North Road roundabout and Milburngate), Milburngate (between North Road and the access to Framwellgate Waterside), Crossgate (from the junction with North Road/Framwellgate Bridge to the junction with South Street).
An additional restriction sees parking banned from 6pm on Friday, July 7 in New Elvet, Old Elvet, Prison Green and Green Lane. These roads need to be kept clear of vehicles until 8pm on the Saturday.