Fracking Operation Approved In North Yorkshire
23 May 2016, 18:58 | Updated: 23 May 2016, 19:09
The first fracking operation in the UK for five years has been approved in North Yorkshire.
Drilling near the village of Kirby Misperton in Ryedale could begin this year after councillors voted in favour.
Thousands have protested against the move - with crowds chanting "we say no" outside County Hall in Northallerton following the decision.
Those who oppose the plans have told councillors they do not want the county to become known as the "fracking capital of the UK''.
Kyle Boote, the founder of the Helmsley Brewing Company, told the meeting at County Hall that contamination of the water supply would be "disastrous''.
He said:
"The introduction of fracking will portray us as the fracking capital of the UK and that is not how we want to be known.''
Frank Colenso, a local resident, told committee chairman Peter Sowray that he was being "asked to preside over a David and Goliath moment'' and urged him to reject the application.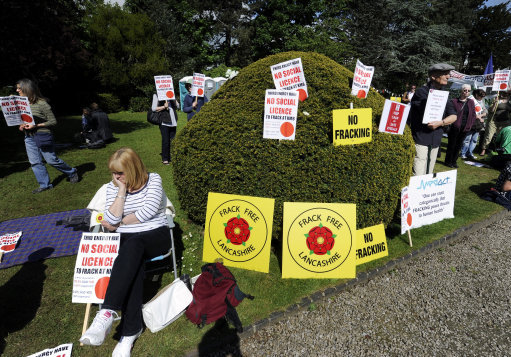 PICTURED: Protesters against fracking outside County Hall in Northallerton
The Government has said it is going "all out for shale'' to boost energy security and the economy.
But opponents fear fracking - in which liquid is pumped deep underground at high pressure to fracture rock and release gas - can cause problems including water contamination, earthquakes and noise and traffic pollution.
Environmentalists also warn that pursuing new sources of gas - a fossil fuel - is not compatible with efforts to tackle climate change.
No fracking has taken place in the UK since 2011, when tests on the Fylde coast were found to have been the probable cause of minor earthquakes in the area.
Since then, two high-profile applications to frack in Lancashire have been rejected by councillors and are now the subject of appeals.
Third Energy wants to frack for shale gas using an existing two-mile deep well - called KM8 - drilled in 2013.
Rasik Valand, chief executive of Third Energy, stressed that the well site has been operational for decades for non-fracking extraction.
He said:
"Third Energy has been drilling wells, producing gas and generating electricity safely and discreetly in North Yorkshire for over 20 years and we will continue to maintain the same responsible approach in the future.''