Teenagers Jailed For Life For Hartlepool Woman's Murder
7 April 2016, 16:17 | Updated: 7 April 2016, 16:24
WARNING: GRAPHIC IMAGES Two teenage girls have been jailed for life for the murder of an alcoholic woman in her own home in Hartlepool.
The pair, who cannot be named for legal reasons, showed no reaction when they were sentenced at Leeds Crown Court.

Now both 15, the girls were 13 and 14 when they attacked Angela Wrightson in the lounge of her home in Hartlepool, County Durham, using weapons including a shovel, a TV, a coffee table and a stick studded with screws and leaving her with more than 100 injuries.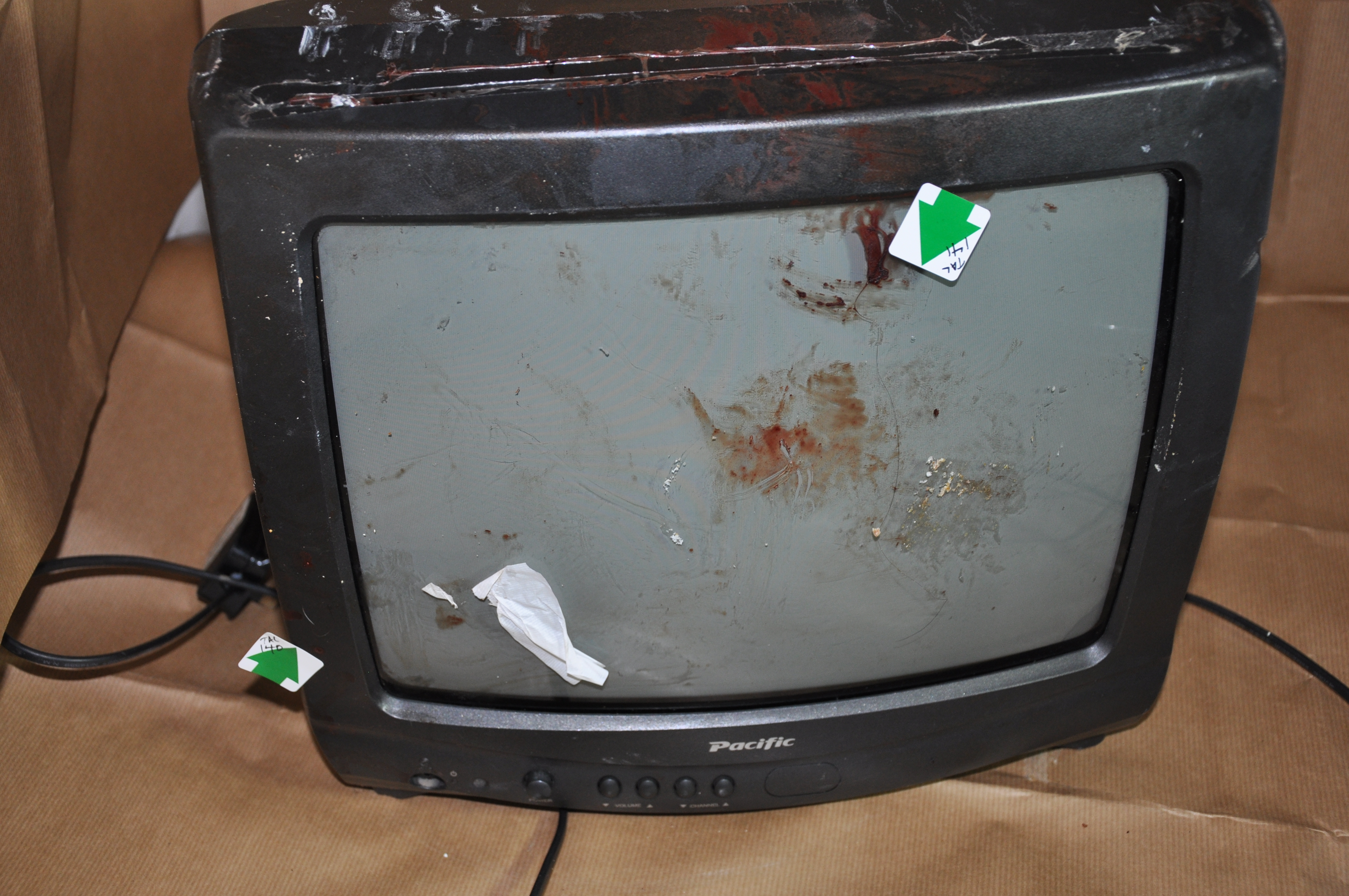 ABOVE: TV used by the teenagers in their attack on Angela Wrightson in Hartlepool


The judge refused to lift an order banning the identification of the two girls after hearing details of how the older one had repeatedly tried to kill herself.

He said some of these attempts happened on court premises, during the trial.

In one, the judge told the girl that a court official "I am satisfied, saved your life''.

He said the case for naming the younger girl was stronger but he accepted she was also vulnerable.

The judge told the older girl:
"I am concerned and disturbed by what I regard as a heightened real risk that identification by a press blitz will elevate the risk to your life to such an extent that I am satisfied that there is a real and immediate risk to your life if you were to be identified as one of the two girls who murdered Angela Wrightson.''



ABOVE: A piece of wood with nails in used to beat up Angela Wrightson


A victim impact statement from Miss Wrightson's mother, Maureen, was not read to the court but the judge summarised parts of it.

He said:
"She describes the horror of seeing Angie's battered body in the mortuary. She does not think she will ever be able to blink those images away.

Having seen photographs of what Angie looked like at that time, I readily understand why she is of that view.

She cannot understand how you could have been as violent as you were.

She is not alone in that view.

She had been disgusted by the laughing and giggling and sharing of photographs during the time of and immediately after the attack.''



ABOVE: CCTV shows Angela Wrightson in a shop

______________________________________________________________________

UPDATED 5th April 2016
Two teenage girls have been found guilty of murdering a 39-year-old woman in her Hartlepool home.

The pair, who cannot be named for legal reasons, were convicted of the murder of alcoholic Angela Wrightson by a jury at Leeds Crown Court.

Miss Wrightson was found dead in her blood-spattered living room in Hartlepool, County Durham, with more than 100 injuries.

After carrying out their attack, the girls then called 999 to ask Cleveland Police for a lift home:



Both girls were in tears after the verdicts and were led from the dock immediately.

The seven-week trial has heard that the girls, who were aged 13 and 14 at the time of the attack in December 2014, used a variety of weapons, including a coffee table and a computer printer, to carry out the "sustained and brutal'' attack over a prolonged period.




ABOVE: Shovel used to murder Angela Wrightson in Hartlepool

The jury of eight women and four men deliberated for just over three hours before returning the guilty verdicts.

The girls will be sentenced on Thursday.

The trial heard that the girls, who are now both 15, had visited Miss Wrightson, an alcoholic known as "Alco Ange'', on a number of occasions as she would buy them alcohol and cigarettes.

On the evening of the murder, they let themselves into her home and asked Miss Wrightson to go to the shop for them.

Both had been drinking before they arrived and the older girl told the court she had taken prescription drugs earlier in the day.

Their accounts to the court of what happened next differed but the jury heard that Miss Wrightson, who was 5ft 4ins and weighed six-and-a-half stone, was assaulted in 12 separate locations around the room in an attack that took place over five hours.

Other weapons used included a wooden stick laced with screws, a television set, a shovel, ornaments, a picture frame and a kettle, and the court heard that Miss Wrightson was forcibly restrained while the pair battered and tortured her.

When she was found by her landlord the following morning, on December 9 2014, the victim had in excess of 103 injuries, including 80 to her face.

Her living room was described as "akin to a bomb site''.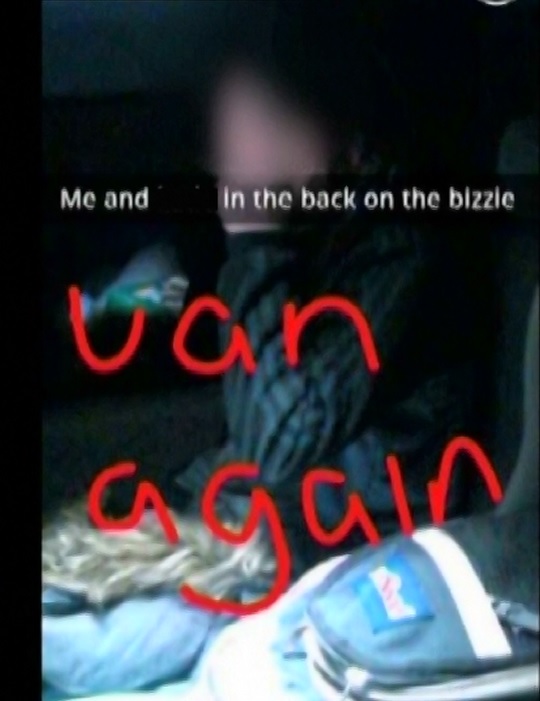 ABOVE: Selfie taken by the teenagers in the back of a police van they called for a lift home after murdering Angela Wrightson