LIVE: Adam Johnson Sentencing
24 March 2016, 13:29 | Updated: 24 March 2016, 18:50
Ex Sunderland footballer Adam Johnson has been jailed for six years at Bradford Crown Court for engaging in sexual activity with a 15-year-old girl.
Post-sentence, Detective Inspector Aelfwynn Sampson, of Durham Constabulary, released the following statement:

"This is a carefully considered and significant sentence which sends out a clear message.

"Fame, celebrity and a position of power does not give you the right to break the law in pursuit of whatever you desire.

"Members of the public are clearly entitled to express their opinions but the law remains clear and Adam Johnson broke it.

"He partially admitted his guilt and was found guilty of a more serious count after trial.

"The age of consent is clear. It is set at 16 to protect young people from adults and also themselves.

"Johnson, a 28-year-old man, picked out a 15-year-old girl. His sexual intentions to the girl were clear as he admitted himself while giving evidence.

"He pleaded guilty to grooming her for sexual activity fully knowing how old she was from the start. She never lied about her age to him.

"He groomed his victim and gave her his personal phone number, arranged to meet her and gave her special gifts of signed shirts.

"Over a period of time they exchanged hundreds of messages. He made her feel special and admitted flirting with her to manipulate the schoolgirl in an attempt to satisfy his sexual desires.

"This girl should have been safe but she was used by the public figure she looked up to most.

"I hope today will bring some closure for her and her family.

"This case demonstrates that victims of these crimes will be taken seriously and perpetrators will be dealt with robustly."

_____________________________________________________________________________

UPDATE 12pm

Dr Philip Hopley, a consultant psychiatrist giving evidence for the defence, told the court:
"This is a man who, at the age of 28, is socially and psychologically immature.''

Dr Hopley said Johnson developed very late physically and had low self confidence as a youngster.

He said he believed that as a professional footballer he developed his confidence and self-esteem very quickly and this, combined with the availability of willing women, led to his "compulsive sexual behaviour''.

The doctor said he found no evidence in Johnson of an attraction to pre-pubescent children or "sexual perversion''.

He said that during his meetings with Johnson the footballer was not "guarded'' or measured in his replies.

He told the court Johnson had disclosed his activities to him.

Johnson's barrister Orlando Pownall QC asked him:
"Did you perceive that he was trying to underestimate and mislead you?''

Dr Hopley replied: "No I did not.''

Mr Pownall asked whether Johnson told him that sending explicit messages was "common practice amongst his fellow professional footballers and associates''?

The psychiatrist replied: "That is correct.''

Mr Pownall said that Johnson had described an increasing availability of women, adding that "he never thought that what he was doing was wrong in his head''.

The barrister added: "Did he appear to show remorse for his actions?''

Dr Hopley said: "Yes he did.''

The psychiatrist added that Johnson had told him he had "lost every aspect of his life'', adding: "I just want to let people I have hurt get on with their lives now.''

But Miss Blackwell said that the defendant's attitude towards women had been set out in a report.

She said:
"Mr Johnson, using his professional status to obtain partners for his sexual gratification, was able to persuade himself that the participants were not damaged in any way and gained kudos for having sex with a professional footballer.''

Mr Pownall urged the judge not to "get carried away'' in his sentencing.

He said: "We do invite the court to be proportionate.''

__________________________________________________________________________
UPDATE 11am

In the dock, Johnson spoke to confirm his name.

Prosecutor Kate Blackwell QC said he had no previous convictions and prior to the current prosecution had been a "man of good character''.

The court heard that the victim had suffered at school both in her schoolwork and with bullying because of Johnson's actions

The victim had even been approached by a stranger who questioned her relationship with the footballer when she was out.

Miss Blackwell read part of the girl's impact statement to the court, which said: "This whole experience has been overwhelming. Through the process I have had many hard times.''

It added that she had even "felt at risk'' going out.

The statement said that because Johnson had protested his innocence she "felt very intimidated by it all and felt very lonely. I have entered many dark places over this 12-month period and at times wanted to just shut the whole world out''.



ABOVE: Police officers shepherd the media after the arrival of former England footballer Adam Johnson at Bradford Crown Court where he is expected to be jailed after he was found guilty of one offence of sexual activity with a child by a jury there earlier this month. (PA)
______________________________________________________________________________
UPDATE 9:45am

Former England footballer Adam Johnson ran into court today (video below) where he is expected to be jailed for engaging in sexual activity with a besotted 15-year-old fan.

Johnson has been warned he faces a "substantial prison sentence'' after he was found guilty of one offence of sexual activity with a child by a jury earlier this month.

The 28-year-old ran into the entrance of Bradford Crown Court as a line of police officers guarded the front as reporters and photographers waited outside.

Earlier his sister said she would not be in court because ``I just don't want him to see the pain in my eyes''.

She said Johnson's former partner and the mother of his one-year-old daughter, Stacey Flounders, will also not be at the hearing.

In a Facebook post, Ms Johnson said:
"Today is the sentencing for my brother, the worst day of my life.

"I just wanted to let all of the supporters know that I will not be attending Bradford Crown Court, the reason for this is Adam has always been my hero, my brother and my best friend, I just don't want him to see the pain in my eyes!

"Instead I will be at home with my little boy, Adam's number 1 fan, Adam's daughter and the mother of his child Stacey.

"I remain proud of my big brother and I am 100% behind him and I always will be.''

The player had already admitted another count of the same offence and also grooming the girl, who idolised him.


_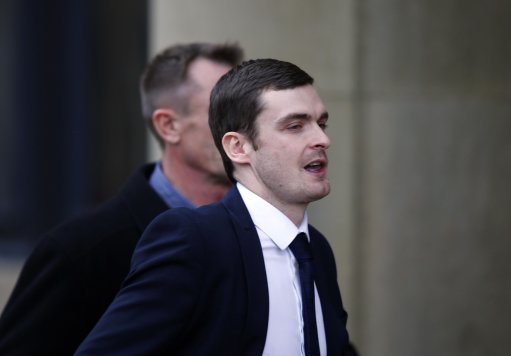 ABOVE: Former England footballer Adam Johnson arrives at Bradford Crown Court where he is expected to be jailed after he was found guilty of one offence of sexual activity with a child by a jury there earlier this month. (PA)
_______________________________________________________________________________

UPDATED 24th March 2016, 8am

Johnson was told by a judge he faced a "substantial prison sentence'' after he was found guilty of one offence of sexual activity with a child by a jury at Bradford Crown Court earlier this month.

The winger had already admitted another count of the same offence and also grooming the girl, who idolised the former Sunderland and Manchester City player.

Judge Jonathan Rose made the warning after granting the 28-year-old, telling him: "You can say goodbye to your daughter. A prison sentence will mean you will not see her for some time.''

Judge Rose told the player - who earned £60,000-a-week with Sunderland - his preliminary view was that the case falls into the category of a five-year prison sentence with a possible range of four to 10 years.

All the charges relate to an incident in Johnson's Range Rover when he met up with the girl in County Durham on January 30 last year.

The jury heard how the player began exchanging hundreds of messages with the girl on social media at New Year 2015. He eventually agreed to meet her to sign football shirts.

But it was when they met for a second time that he asked for his "thank you kiss''.

Johnson admitted kissing the girl but denied any further sexual activity. The girl told the jury how the player digitally penetrated her after putting his hands down her pants and that she then gave him oral sex.

The jury cleared Johnson of the count relating to oral sex but found him guilty on a majority of 10-2 on the count relating to the digital penetration.

After he was found guilty, his teenage victim said she felt "so broken''. She said she had endured a year of being called a liar as Johnson continued to proclaim his innocence.

The player made his guilty pleas just before his trial began in February.

After the trial ended, a row erupted over just how much Sunderland AFC knew about what their player had done when they let him play on before finally sacking him earlier this year after his guilty pleas.

The club later said it was "so very sorry'' for letting down their 15-year-old fan after chief executive Margaret Byrne resigned.

Ms Byrne admitted "a serious error of judgment'' in advising the board that the star winger could carry on playing after he was initially suspended last March.

Johnson, a £10 million signing, helped the Wearside team to narrowly avoid relegation from the Premier League last year.

The player - who was capped 12 times for England - has a one-year-old daughter with Stacey Flounders, who supported him during the court case but who told the jury they were now just friends.