Roads Closed For Sunderland Half Marathon And 10k
3 May 2015, 06:40 | Updated: 3 May 2015, 06:41
Thousands are expected in Sunderland as runners and spectators gear up for the 10k and half marathon events through the city.
Ahead of the races, a warm up for runners will be hosted by Apprentice star Katie Bulmer-Cooke from Ashbrooke.

Both races will be started by members of the Sunderland Ladies football team, with Sunderland athlete Aly Dixon the favourite to win the 10k event.

Runners will start and finish at the Stadium of Light, with the 10k underway at 10am and half marathon at 10:25am.

The route includes Sunderland city centre, Hendon, Grangetown and Ashbrooke.

Roads are closed at times between 08:00 and 16:00.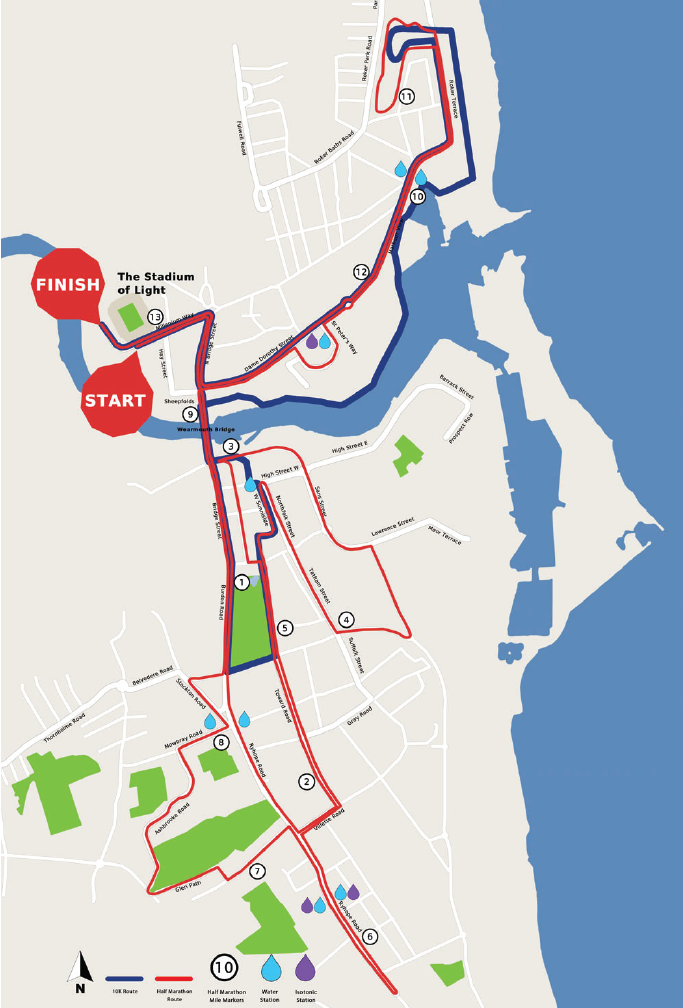 Full List Of Road Closures
ROAD
CLOSED
OPEN
Wearmouth Bridge
08:00
16:00
Fawcett Street
08:00
12:20
Burdon Road
08:00
12:20
Sunniside/Tatham Street
08:00
11:30
Toward Road
08:00
11:30
West Wear Street
08:00
11:30
Hendon Road
08:00
11:30
Ryhope Road (Grangetown)
08:00
12:00
Ryhope Road (Ashbrooke)
08:00
12:20
The Cedars/Glen Path
08:00
12:20
Mowbray Road (between Ryhope Road
and Ashbrooke Road)
08:00
12:20
Riverside Dame Dorothy Way
08:00
15:30
Seafront Roker Terrace - A183 to Side Cliff Road
09:00
15:00
Bridge Street
08:00
16:00
Access to Marina area, Liberty Way and Sand Point via control point at Wolsey Pub/Langeeford Place
Side cliff Road and A183 beyond that junction are open Stadium North
A1018 fully open beyond White House Road Roundabout


FOOTPATHS AND CYCLE PATHS THAT WILL BE CLOSED
Footpath leading from Bonner's Field to Palmers Hill Quay
National Cycle Network off-road cycle path, riverside route from Palmer's Hill Quay, in a northerly direction
Footpaths along the west, north and east sides of North Dock
Footpaths between Normanby Court and Wheatsheaf Court
Footpath between Craven Court and Hallgarth Court
Footpath, which extends from Marine Walk into Roker Park, beneath Roker Terrace
The coastal footpath that runs along the cliff top from Roker Park / Side Cliff Road to Seaburn Terrace / Seaburn Beach
The Promenade at Seaburn, from Dykelands Road to South Bents Avenue