Washington MP Calls For Metro Extension
10 March 2015, 06:13
Washington and Sunderland West MP Sharon Hodgson wants the Tyne and Wear Metro to be extended to her constituency.
She's handed in a petition to Parliament and also asked to bring the Leamside railway line back into use.

This is the fourth time Sharon has submitted a petition to Parliament on this issue, and this version has collected the signatures of 1,736 residents on her website.

Sharon said:
"Extending the Metro to Washington is something I have campaigned on for a long time now, as I believe it will bring such a fantastic boost to our local economy and the wider community. So many people in our area share this belief and have signed my petitions over the years, and I would like to thank them all for their fantastic support and help."

I am very pleased to have been able to bring this issue up in the House of Commons once again, to make sure all of the residents who signed the petition are heard nationally."

Extending the Metro is the right thing to do, and I will continue to campaign on this as here in the North East we deserve good travel networks just as much as any other part of the country."

I will continue to push this campaign until we are successful, and I hope my persistence shows the Department for Transport that we really want and need this extension to happen, and hopefully this will make them act, if not during this Government then hopefully the next."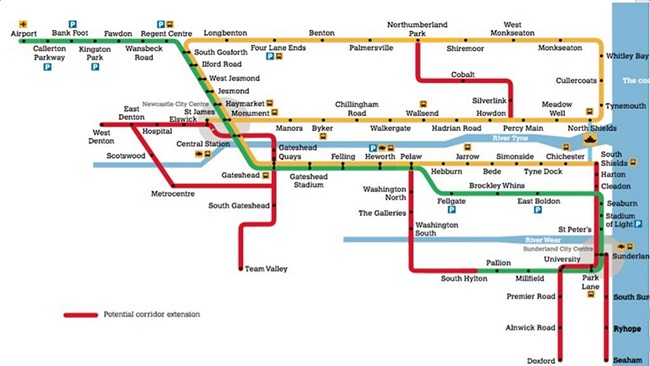 The map above shows the proposed extensions to the Tyne and Wear Metro.

As well as the petition, Sharon's setting up a group of stakeholders, including businesses and residents in the town, to back the proposals.

Nexus has already published plans to extend the network to bring 3 stations to Washington, as detailed in the picture above - but it needs investment from central Government for it to happen.

You can find Sharon's petition HERE