113 Weapons Handed To Cumbria Police
26 September 2018, 16:21 | Updated: 26 September 2018, 16:23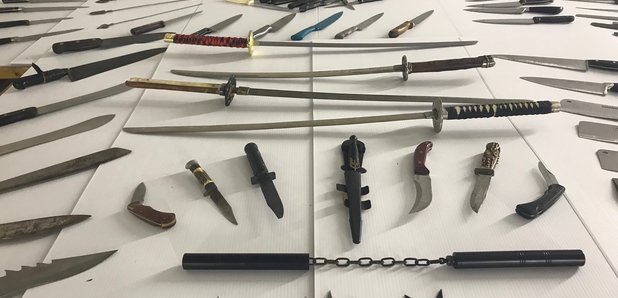 Blades including Samurai swords and machetes are now in the hands of the police
Blades including Samurai swords and machetes are now in the hands of the police - thanks to a week-long knife surrender carried out in Cumbria.
A total of 113 potential weapons were received by Cumbria Constabulary during Operation Sceptre, which was a national operation to tackle knife crime.
During the week running up to Monday people were able to anonymously hand in unwanted knives to bins at police station front counters.
It led to dozens of knives being handed in, along with:
· A Samurai sword with a picture of martial arts film star Bruce Lee on the handle;
· Two meat cleavers;
· Five throwing stars;
· Three other Samurai swords;
· Three machetes;
· A dagger.
Cumbria continues to see a lower number of offences than other areas of the UK. But officers are not complacent.
Superintendent Mark Pannone said: "This operation has been a success.
"Many potentially dangerous blades have been handed in from members of the public and cannot be used to hurt anybody.
"The danger of these knives and blades is that they could fall into the hands of the wrong people.
"We take the issue of knife crime extremely seriously.
"I'd like to thank those who have handed knives and blades in during the surrender.
"They have contributed to making Cumbria a safer place."
Cumbria's Police and Crime Commissioner Peter McCall said: "Knife crime destroys lives.
"There are no circumstances where carrying a knife or blade as a weapon is acceptable and, while some people wrongly perceive that a knife offers them some kind of protection, in reality it only serves to make them more vulnerable while placing those around them at greater risk.
"Every knife surrendered is one less that can cause death, destruction and misery so I welcome that as a result of Operation Sceptre there will now be less knives on the streets in Cumbria."
There were 149 offences recorded during 2017 where a knife or other sharp implement was used to injure or threaten somebody.