£1.3m Grant To Save Aqueduct
3 August 2018, 08:02 | Updated: 3 August 2018, 08:07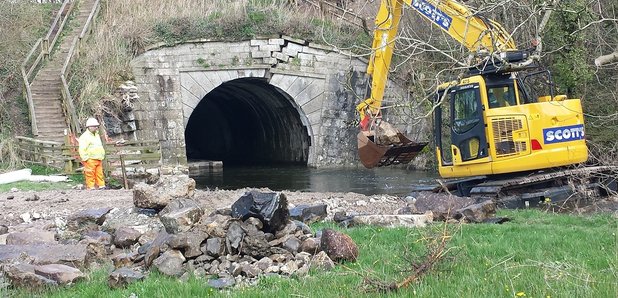 More than a million pound will be spent saving the Stainton Aqueduct.
The Grade-II listed structure - which carries the Lancaster canal over a beck near Sedgwick - was badly damaged by Storm Desmond in 2015.
A Heritage Lottery Fund grant will pay for the repairs, which'll take nine months.
Stephen Higham, from the Canal & River Trust, said: "The Lancaster Canal celebrates its bicentenary in 2019 so this is a perfect time to work with the Lancaster Canal Regeneration Partnership to help realise our joint aspirations for wider heritage and regeneration activity.
"Securing the future of the 200-year-old aqueduct is vitally important for the future prosperity of the Lancaster Canal and we are delighted the HLF grant means we can now get on with the essential restoration and repair work."
Audrey Smith, Lancaster Canal Regeneration Partnership chair, added: "The canal has great untapped potential as a regional visitor and tourism destination. We look forward to continuing to work with the Canal & River Trust as we breathe new life into this waterway through the Lancaster Canal Towpath Trail project."