70mph Wind Warning In Place, Thursday
13 June 2018, 14:29 | Updated: 13 June 2018, 16:50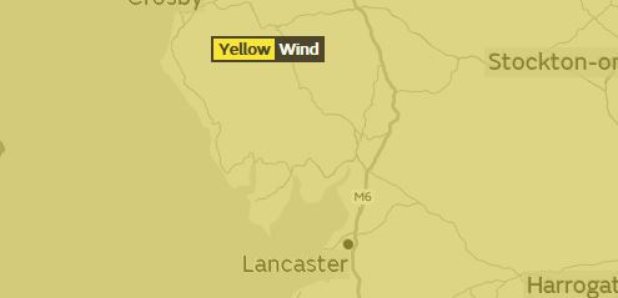 Strong winds brought by Storm Hector are possible from 3am on Thursday, with a Met Office yellow warning in place across Cumbria and North Lancashire for 12 hours.
Highways England says gusts are likely to be especially strong on the M6 in Cumbria at Shap, between 6am and 11am, with gusts of up to 70mph possible.
Its Head of Road Safety, Richard Leonard, said: "We're encouraging drivers to check the latest weather and travel conditions before setting off on journeys and consider if their journey is necessary and can be delayed until conditions improve.
"If you do intend to travel, then plan your journey and take extra care, allowing more time for your journey.
"In high winds, there's a particular risk to lorries, caravans and motorbikes so we'd advise drivers of these vehicles to slow down.
"Drivers of other vehicles should be aware of sudden gusts of wind which can affect handling and braking, and give high-sided vehicles, caravans, and motorbikes plenty of space.
"In the event of persistent high winds we may need to close bridges to traffic for a period, so please be alert for warnings of closures and follow signed diversion routes.
"Curtains on empty high-sided vehicles can act as sails when closed, and when high winds arise, we advise HGV drivers to open their curtain-sided vehicles if they are empty."
A Freight Transport Association advisory states "When driving an empty curtain-sided vehicle, tie both curtain sides at one end of the vehicle to reduce the effect of side winds."
Kevin Wadsworth, the Met Office's regional advisor, added: "The next couple of days look like being reasonable, but the focus is on late Wednesday night and Thursday, as those strong to gale force winds sweep in, we'll see some patchy outbreaks of rain as well, but not enough to cause any issues.

"It's the south-westerly wind which may well give us some impacts. Gusts of 50-60mph are likely, with some exposed coastal and hilly spots prone to gusts up to 70mph.

"There is a small chance of longer journey times or cancellations as road, rail, air and ferry services are affected.

"Large branches are likely to break off trees, and whole trees may also be at risk, presenting associated hazards and risk of injury.

"The winds will die down later on Thursday, with a fine night to follow, Friday and the weekend will have much lighter winds, but with some showers to watch out for, and temperatures close to normal."
Electricity North West says it's ready, should the weather cause any power problems.
Chris Fox, networks systems manager for Electricity North West, said: "Although we are now in the milder summer months, Storm Hector shows that storms and severe weather don't just happen in winter.

"No matter the season or the weather, we are always prepared and we are well-rehearsed in working around the clock to mobilise our engineers and repair any damage and get the power back on as quickly as possible if it does go off.

"We are urging people that if they see any damage to our overhead power lines please stay away and report it to us straight away so we can repair it safely.

"We are available 24 hours a day, seven days a week if customers need any help or advice."