Alpaca Help Cumbria Dementia Patients
10 September 2018, 06:00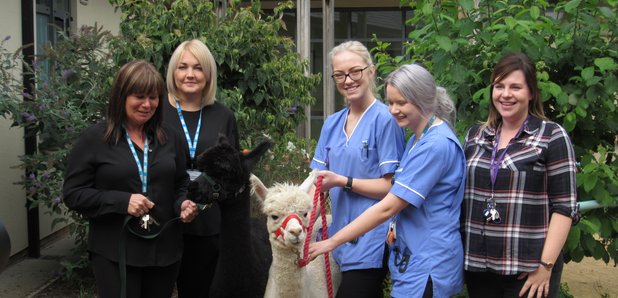 A pair of alpaca - called 'Twinkle' and 'Dude' - are helping dementia patients in Cumbria.
The duo are used for animal therapy, which helps sufferers' wellbeing.
Children with autism are alos benefiting from meeting the county's newest NHS recruits.
Rikki Dawson, Ward Manager at Ruskin Dementia Unit said: "Twinkle and Dude's visit was just great; you could feel such a buzz in the atmosphere and the positive impact is clear through our patients' mood and behaviour. This type of therapy helps keep people well, motivated and engaged.
"We've done a lot of work over the past few years to improve the service we provide for our patients, including different therapies that are not all based around medicine. Animal therapy always goes down well and we are looking to get some owls and other birds to visit soon."
One patient on the unit was thrilled with the visit and said: "I really like them both. They're lovely, soft and patient and like being stroked just under the chin."
Twinkle and Dude's owner, Kim Inglis Jeffries from Blencogo Farm, adds: "The alpacas are great with people; we've had some wonderful experiences with those who have met them both on the farm at home and through our visits around the county.
"Alpacas are particularly calming with children that have autism as well as people that live with dementia. They are incredibly intelligent and very perceptive; when out visiting people they can pick up on those who are most vulnerable and like to spend time with that person. They also have great memories and always remember if they have been somewhere before and a particular person they have had a bond with."