Barrow Sub' Marks 50 Years Of Patrol
15 June 2018, 15:16 | Updated: 15 June 2018, 15:20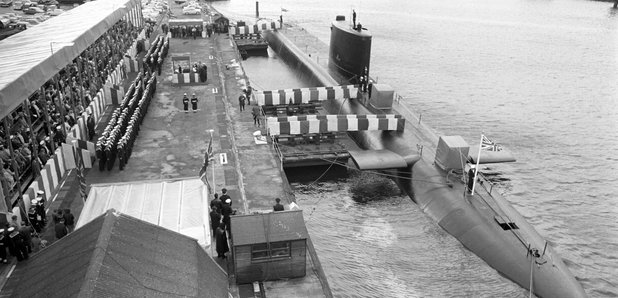 It's exactly 50 years since a Barrow-built submarine began the first nuclear patrol of the UK.
To mark HMS Resolution's voyage, a celebratory event's being held in Westminster later this year.
Furness MP John Woodcock will host it in November.
Speaking today from a special conference marking the event, Mr Woodcock said: "I am delighted to announce I will be hosting a very special event on 14th November 2018 to mark the anniversary.
"I was honoured to pledge my support for the submarine programme back in July 2016 and the success of the Trident vote remains one of my proudest achievements to date.
"I am excited to mark this this extraordinary achievement with the people who made it possible, enabling a continuous at sea deterrent to patrol 24 hours a day 7 days a week, 365 days a year for future decades.
"This will be an opportunity, not only to celebrate but also a platform to discuss future challenges as we look ahead."
The United Kingdom is protected 24 hours a day by a continuous at sea deterrent, today by the Vanguard-class submarines which are due to continue serving until the 2030s carrying the Trident strategic nuclear armed missile system.
The next generation of missile carrying boats will also be built in the Barrow shipyard.

The event will bring together ministers, senior officers in the Royal Navy, parliamentarians and representatives of the supply chain and workforce.