Campaign To Save Pub Mural
18 July 2018, 07:16 | Updated: 18 July 2018, 07:18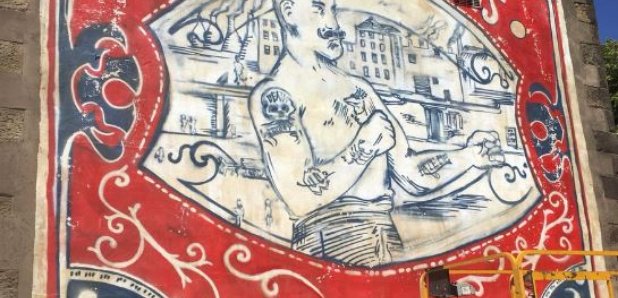 A mural on the wall of a Lancaster pub that's proved a big hit could be removed by the council.
Drivers on the city's one-way system won't fail to notice the painting at rock venue, 'The Pub' - which celebrates the band 'Massive Wagons', who started out by gigging there.
The City Council say it's advertising, and permissions weren't sought.
Lauren Hutchinson's set up a petition to save it: "It's not imposing. It's not vulgar in any way. It's handpainted - it was handpainted in the rediculous heat. It's just a big celebration of Massive Wagons' achievements.
She added it's very popular: "Absolutely huge. Loads of people have been traveling to have their picture taken in front of it. It's a really great celebrations of what 'Wagons' are all about - bringing people together."
Lancaster City Council have responded - a spokesperson said: "The correct thing for the business to do would have been to contact the council in the first place and ask whether any permissions were required. We would then have been able to guide them through the process. For whatever reason they have chosen not to do this. Despite that, we have opened dialogue with the landowners and are advising them of their options."
The band themselves are taking a diplomatic approach, they said: "Amazing to see so many people getting passionate about this subject. It's important to remember the council have a job to do and no one's disputing that. Lines of communication have opened up between the relevant parties. We are working to getting this sorted."