Crash Victim Says Put Devices Away
12 November 2018, 06:35 | Updated: 12 November 2018, 06:38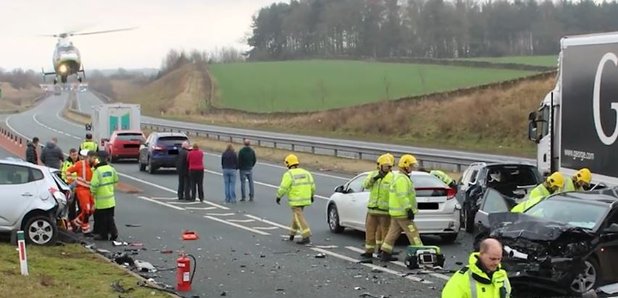 A woman's told the story of a crash she was in in Cumbria - as a warning about driving while distracted.
Claire Westgarth was hit by a lorry in stationary traffic on the A66, the driver had been looking at his tachograph.
The trucker got a suspended prison sentence.
Claire said: "I think everyone gets distracted when they are driving. It's so easy. But checking a mobile device or a tachograph is just a distraction too far.
"It's unnecessary. There's no reason you can't pull over into a lay-by or service station to check the devices.
"It's not worth risking other people's lives on the road – both other road users and yourself. It just is not worth that risk."
Claire was driving on the A66 eastbound at Temple Sowerby in January of last year when the traffic came to a stand-still.
She watched helplessly through her rear-view mirror as the HGV travelling behind her failed to slow, smashing into the back of her own car.
It left Claire with numerous injuries including a complete break of her upper arm and a laceration across the top of her head.