Cumbria Fire Crews Join Wildfire Fight
29 June 2018, 11:53 | Updated: 29 June 2018, 11:58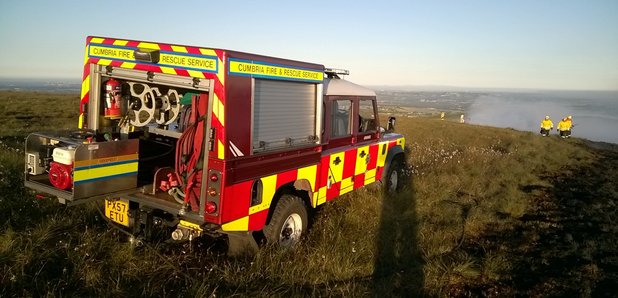 Cumbrian firefighters were called out to help tackle a moorland fire in Lancashire, in efforts to protect a vital communications masts.
An emergency response team was was called out in the early hours of Friday morning to Rivington Moor on the outskirts of Chorley.
Lancashire Fire and Rescue Service first received reports of a grass fire on the hill at 15:20 on Thursday.
But last night the fire had become so severe that crews from Ulverston, Arnside and Staveley as well as the Grange Wildfire Unit joined the Lancashire crew to tackle the fire. It is now under control.
Grange Wildfire Unit provided support by using beaters and knapsacks to fight the blaze and prevent flames spreading to nearby forestry.
Cumbria Fire and Rescue Service Station manager Sean Hevey, who led the Cumbrian crews, said: "When we arrived at the scene at about 1am there was a vast area of moorland on fire. It was as far as the eye could see. We initially had a watching brief protecting the communications infrastructure. At first light we got on to the heathland and used beaters and knapsacks to beat the fire down."
A total of 18 firefighters from Cumbria were involved in the firefighting operation.
A man has now been arrested on suspicion of arson.