Cumbria Joins European Speeding Fight
16 April 2018, 11:50 | Updated: 16 April 2018, 11:54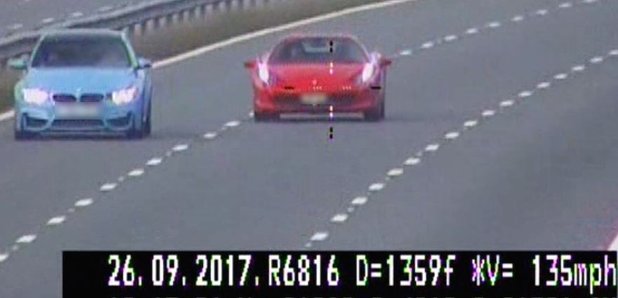 Cumbria Police are stepping up their patrols to crack down on "dangerous and irresponsible" drivers this week.
It's part of a Europe-wide campaign to get drivers to slow down, in efforts to cut the number of deaths and injuries on our roads.
Sergeant Claire Sampson of Cumbria Police Mobile Support Group said: "The emergency services are often the first on the scene of serious and fatal road traffic collisions.
"We see the tragic consequences of people driving too fast and it is our officers who have to deliver the terrible news to families.

"Driving at excessive speed is not always driving above the speed limit of a road. A limit which should be taken as an absolute maximum.

"It is also driving at a speed which is not appropriate for the conditions, such as when there has been heavy rain, high pedestrian activity or poor visibility."

In April 2017, new sentencing guidelines came into effect aimed at those who commit the most egregious speeding offences.

The new 2017 guideline apply to those who, for example, travel at 41mph or more where there is a 20mph limit, 51mph or more where there is a 30mph limit or over 101mph on a motorway.

Last month, two drivers received driving bans after being recorded on the M6, with one clocked at 135mph and the other at 145mph (pictured above).

Sergeant Sampson said: "Our officers are always looking to identify drivers who are driving badly.

"Driving at speeds that are unsuitable for the conditions is bad driving. A speed limit on a road is just that – a limit. It is not a target to be reached.
"This is particularly true on our county roads, many of which are country roads and particularly at this time of year are busier than ever with vulnerable road users, such as cyclists, walkers, horse riders and farmers with livestock.
"Drivers need to give themselves time react to what could be round the next bend or coming in the other direction.

"A small amount of restraint and consideration, from all road users for each other, could be the key to reducing life changing incidents on our roads."

Cumbria's Police and Crime Commissioner Peter McCall said: "A significant part of my role involves listening to the views, concerns and issues from people in Cumbria, and ascertaining what their priorities for the police are.

"One subject that comes up frequently is speeding, along with antisocial driving, parking issues and road-safety in general.
"I believe this is equally an issue on our main roads, as well as for drivers in the many rural communities in Cumbria, as these potentially present many hazards such as narrow roads, poor road conditions and slower farm vehicles.

"I am really pleased, therefore, to see this TISPOL campaign, as we all need to work together to raise awareness about the perils of speeding.
"We can all forget or be inattentive at times, but road safety is a responsibility we all share."