Design Revealed For Lakes Currency
27 April 2018, 12:47 | Updated: 27 April 2018, 12:52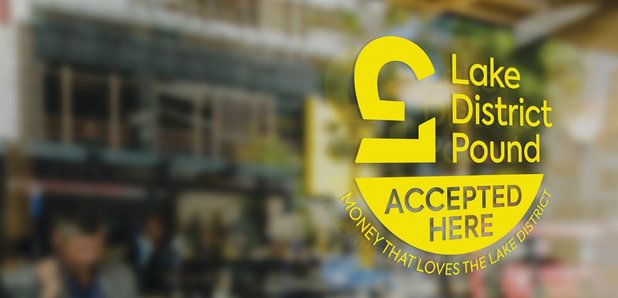 The designs for the Lake District's own paper money will feature its most famous names and views.
The likes of John Ruskin and William Wordsworth appear on the one, five, ten, and twenty pound notes.
You'll be able to spend them at National Park businesses and attractions from Tuesday (1 May).
Ken Royall, founder and director of the Lakes Currency Project, will officially make the first purchase with Lake District Pounds to board a steamer across Ullswater from Glenridding.
The currency can be used interchangeably with and alongside Sterling, but can only be spent in locally owned, independent businesses and tourist attractions. In addition, people will also be able to buy a 'LD£ Passport' to fill with unique stamps from local businesses as they explore.
Mr Royall said: "We're ecstatic to finally reveal the first ever Lake District Pound designs, and are looking forward to launching this exciting project for the benefit of our local businesses and communities.
"The Lake District Pound is a new way for people to explore the distinctive culture of our region and feel part of the community, both by interacting with the currency itself, but also by visiting our unique local businesses and meeting the people who own them," said Mr Royall, who lives near Windermere.
"Lake District Pounds can be spent completely interchangeably with and alongside Sterling, but only in locally owned, locally trading businesses, which are unique to or founded in the Lake District and Cumbria. It's a fun way of encouraging people to visit all our great local shops, cafes and attractions – the local businesses that make our local culture and communities so special.
"We also know that people love to collect local currencies. If locals or visitors choose to collect Lake District Pounds as mementos of their experience, they can do so knowing that the money will fund projects that look after our landscapes and local communities. All proceeds will be divided between Cumbria Community Foundation and the Lake District Foundation – it's a rewarding way for locals and visitors to help look after the landscape they love."
Lakes Currency Project Creative Director Sophie Crewdson said: "The Lake District is loved by a global community of visitors as well as locals. Through our currency, we want to help those people not only enjoy a closer appreciation of the Lake District's unique culture and community, but also to feel inspired to give back and help look after its future. Every LD£ makes a difference.
"A local currency is such an exciting creative platform to celebrate what people love about the Lake District – something that we could never sum up in one set of designs. 2018 is just the start - the designs will evolve each year just like the Lake District's story has and always will. We hope the Lake District Pound will become a real source of pride and excitement for anyone who loves this place – wherever they are in the world."
People can exchange their Sterling for Lake District pounds at a number of Exchange Points across the region, including at most Post Offices. They can then swap their Lake District Pounds back to Sterling any time during their period of validity, at an Exchange Point or by sending them back to the Lakes Currency Project.