Designer Chosen For Storm Damaged Bridge
11 April 2018, 12:43 | Updated: 11 April 2018, 13:41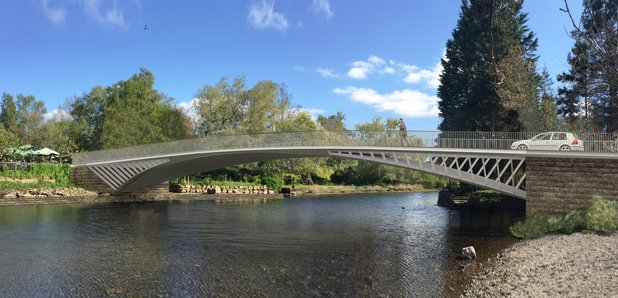 A new bridge - to replace the one damaged by Storm Desmond, over the river Eamont at Pooley Bridge has moved a step closer.
A designer's been chosen, with a developer to be picked later this year and work should begin by the end of 2018.
North west based Eric Wright Civil Engineering Ltd have been appointed as the contractor for the design of the replacement crossing.
Cllr Keith Little, Cabinet Member for Highways and Transport, said: "This is welcome news and it's great to see a regional organisation will be taking a lead on the design of what I hope will be an iconic new bridge.
"They have a proven track record both here in Cumbria and elsewhere in the country and I'm sure they will do an excellent job.
"Eric Wright Civil Engineering Ltd and GHD have committed to a detailed design and engineering solution that remains as faithful as possible to the concept designs that have already been developed, whilst giving full consideration to the impact of the construction phase on the village, its residents and businesses.
Diane Bourne, managing director of Eric Wright Civil Engineering, added: "We've been working closely with Cumbria County Council for a number of years to overcome the damage left following the 2015 floods.
"The new Pooley Bridge design and construct will provide resilience against extreme bad weather to ensure the infrastructure continues to connect communities, businesses and create opportunities for new development for future generations.
"Our highly experienced site team are working closely with the Council and all those involved to minimise disruption during the demolition and construction, and ensure a smooth delivery."
The proposal includes the design of a temporary footbridge across the river which would be installed during the construction phase, and before the current temporary road bridge is removed.
Chair of the Pooley Bridge Footbridge Taskforce, Mark Vause commented: "We are absolutely delighted that the project is progressing and that plans include a footbridge.
"It is of vital economic and social importance to retain a link to both sides of the valley during construction of the permanent road bridge.
"Our message is clear, Ullswater Valley will be very much open for business throughout the entire construction period and it is hoped that many people will show the support witnessed in the aftermath of 2015's Storm Desmond, when crowds of well-wishers made a point of visiting Pooley Bridge to watch progress and support the local pubs, hotels, shops and many other attractions."