Cashpoint Stolen In Carnforth Ram-Raid
5 April 2018, 11:20 | Updated: 5 April 2018, 17:13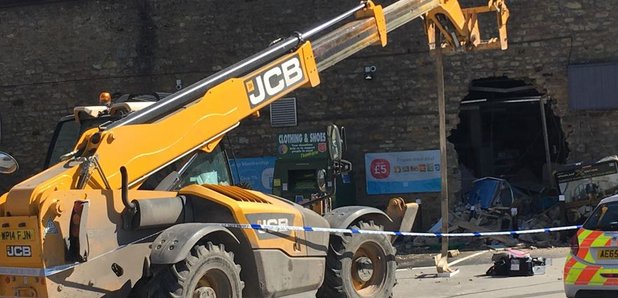 Police are appealing for witnesses after a cash machine was ripped from a shop in Carnforth in a ram-raid with a stolen JCB.
It happened at around 3 o'clock this morning (Thursday) at the Co-Op Food store on Market Street.
The JCB - believed to be stolen from nearby, was driven into the shop front before the cash machine was taken.
Heart's been speaking to both residents and visitors who are shocked that such significant damage was caused in what's usually a quiet market town.
One onlooker told us: "You just never know what's going to happen these days. It's the cheek of it isn't it. Stealing a JCB and ramming a shop. Whatever next?"
Another man said: "It's the shop staff I feel sorry for. They'd only just gone back to work a few weeks ago because the shop had had a refurb'. Now, who knows how long it will be before they can get back in there?
"The damage to the building is really significant. I reckon it will be a while before structural engineers give that building the all-clear."
Police are appealing for witnesses to come forward, particularly anybody who may have seen a white Mitsubishi and dark coloured SUV around the time.
Force Incident Manager, Phil Broughton, of Lancashire Police said: "The offenders made off with the ATM machine and its contents.
"We are now working to establish who is responsible and would urge anyone with information to contact police immediately.
"We believe the JCB was stolen from the surrounding area so would ask machinery owners to check their property and report anything suspicious to police.
"We would also ask that landowners check for anything which may be connected to this incident and may have been dumped by the offenders as they left the scene."
Anybody with information should contact police on 101 quoting log number 150 of 5th April.