Drivers Asked To Give Cyclists More Room
29 March 2018, 08:11 | Updated: 29 March 2018, 08:21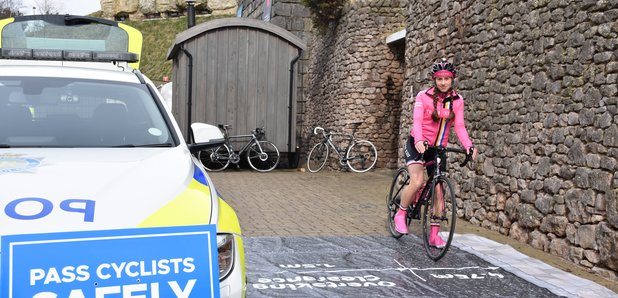 Cumbrian motorists are being asked to give cyclists a minimum of one-and-a-half metre's space when overtaking.
The county's Road Safety Partnership is putting up "safe pass" signs to minimise the chance of an accident this summer.
Sergeant Graham Hawley of Cumbria Police said: "The aim of the signs and the campaign is to get drivers thinking about their own driving habits.
"As a driver, do you give cyclists plenty of room when you overtake? Do you wait for a safe and appropriate place to carry out the manoeuvre?
"There are a lot of excellent drivers on our roads. But there are also drivers who see cyclists as a hindrance and seek to get by them as quickly as possible, with no thought to the potential consequences.
"Those are the drivers we are trying to reach."
Rory Black, of Kendal Cycle Club, was involved in the design of the signs. He said: "It's going to keep cyclists a lot safer if vehicles are giving cyclists more space. If a cyclist needs to swerve around a pot hole - which there are obviously quite a few of in Cumbria - then there will be plenty of space to get round.
"Also, it's about just giving a bit more respect on the road as that's what it's all about - cyclists giving drivers respect and drivers giving cyclists respect."

Karen Gee of Kendal Cycle Club said: "It's a really important message. I run the junior side of the club and we are seeing more and more young people getting on their bikes.
"We need to make sure every driver is seeing cyclists and people rather than just a bike."
Managing Director of Cumbria Tourism, Gill Haigh, said: "The landscape in Cumbria is unique and as the main summer visitor season gets underway, it is a major draw for cyclists from outside the county who want to explore on two wheels. The new 'safe pass' road safety signs are a great idea for cyclists and drivers alike, particularly people who are unfamiliar with the county's roads, to help everyone travel around our stunning county in the safest way possible."