Drivers Ignore Bridge Speed Limit
6 September 2018, 08:38 | Updated: 6 September 2018, 08:41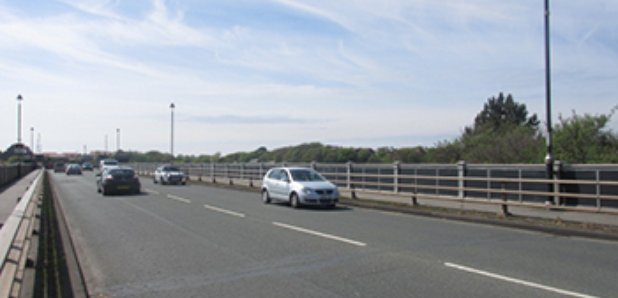 Drivers flouting the speed limit on Barrow's Jubilee Bridge are putting workers' lives at risk.
The council and contractor have spoken out as people are going to fast over it whilst it's being repaired.
Police caught 12 people breaking the 20mph limit last week.
The plea also comes after the arrest and charging of a 56 year old local man under the Public Order Act 1986 following an incident on the bridge on 30 August.
David Haughian, the council's project manager for the Jubilee Bridge works, said: "The speed limit on the bridge is 20mph to ensure the safety of workers, drivers might not think it's much different doing 30mph but that extra speed could be fatal. People working on the bridge have to be able to do so safely, if they can't then that holds up work and causes delays – something none of us want. We understand that motorists can get frustrated but that extra 10mph will make no difference to their journey time, but makes a huge difference to safety. Please drive safely and treat our staff with courtesy and respect. Any verbal abuse towards our workers on site will not be tolerated and all offenders will be reported to the police."
12 people were caught speeding by police on 30 August.
Robin Hicks, Site Manager from Story Contracting, said: "Our site team is working hard to complete the maintenance and repair works to improve Jubilee Bridge whilst causing as little disruption as possible for members of the public. Unfortunately, due to some motorists speeding over the bridge we have had to put additional traffic management measures in place on our twilight shifts to ensure the safety of our workforce resulting in increased wait times at the temporary traffic lights.
"We appeal to motorists to abide by the 20mph speed limit which will help to reduce any delays and ensure that the workers on site can go home safe every day."
A Statement from Cumbria Police reads: "Following an incident at Jubilee Bridge on the 30th August just before midnight, a 56-year-old man has been charged. Kevin Brookes, 56, of Trent Vale, Walney, Barrow, has today been charged with an offence under the Public Order Act 1986. He will appear at South Cumbria Magistrates Court on 3rd October 2018."