Family Rescued From Mud In Morecambe Bay
3 September 2018, 06:08 | Updated: 3 September 2018, 06:10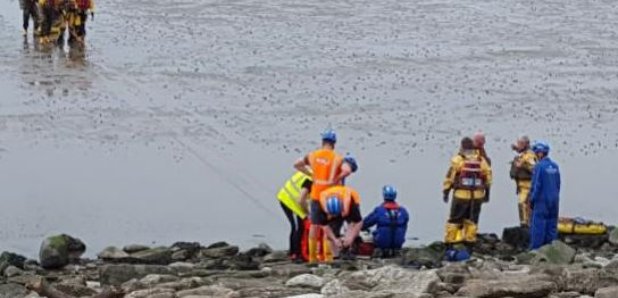 Morecambe's lifeboat crew pulled a young family of four from the mud off Ocean Edge Caravan Park on Saturday.
Two adults and two young children got stuck 400 metres out into Morecambe Bay.
Volunteer Deputy Launching Authority, Harry Roberts MBE, said: "We don't want to put people off from enjoying our Bay but ask that they respect the water by checking the times of the tides and keeping to the designated beaches. If it looks muddy then it probably is; making it dangerous to walk on and so should be avoided. Similarly, we would advise people to remain close to the shore. The tide comes in very quickly. Not only is it easy to get cut off; if you get stuck, the further out you are, the harder it is to rescue you."
Meanwhile, the team were abused by drunk youths last night (Sunday).
The RNLI had responded after the group of six were seen in the water near the Clock Tower, but they'd all come out by the time they got there.
The charity's Colin Midwinter said: "In the absence of first aiders on scene, local coastguards then requested the RNLI to deploy casualty care trained crew to attend as all the children, aged between 11 and 15yrs, were wet and suffering from cold.
"The volunteers arrived on scene to greeted by abuse and threats of violence from the children; all of whom were clearly heavily intoxicated by alcohol.
"In spite of this the crew continued to offer support until police officers and an ambulance crew arrived."