Fatal Fall Prompts More Safety Concerns
19 March 2018, 12:09 | Updated: 19 March 2018, 12:18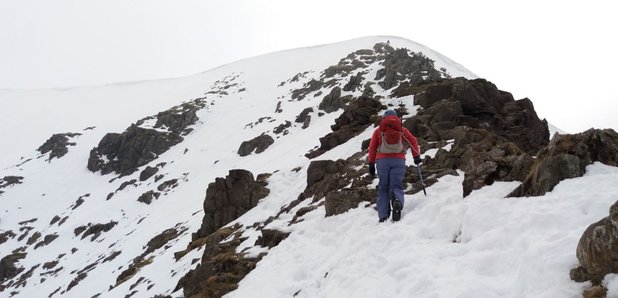 Three accidents on the Lake District's notorious Helvellyn at the weekend - including a fatality, have prompted further safety warnings from Cumbria's mountain rescue teams.
Saturday saw two rescues, followed yesterday by a further accident on the eastern side.
The second accident on Saturday saw a walker fall 60m down a snow slope by Browncove Craggs which overlooks Thirlmere. You can read more about that
here
.
Richard Warren - Chair of the Lake District Search and Mountain Rescue Association, said: "This is the fourth incident this year at Browncove Crags involving tripping and slipping which is on the descent route from the summit of Helvellyn back down to Thirlmere.
"The teams across the Lake District really do want to get a message out about the winter conditions on the mountains and the need for preparation, planning and a real understanding of the risks that exist high up on the slopes.
"The messages will continue to go out about the need for the right equipment but even with the correct equipment accidents do happen and therefore people need to be prepared for every eventuality.
"Either to help yourself survive in the event of having an accident but equally helping others who they may come across and need helping.
"The Easter weekend is not too far away and winter conditions will remain on the slopes and gulleys sheltered from the sun.
"Crampons are essential on steep snow slopes to prevent a fall and an ice accident to stop the sliding. Please remember that spikers are not a substitute for crampons.
"The message is very clear – have the right equipment but also practice using it whether it is a map and compass for when you get lost or an ice axe to arrest a fall."