Fine For Driver Who Waved Both Arms Out Of Car
12 November 2018, 16:37 | Updated: 12 November 2018, 16:43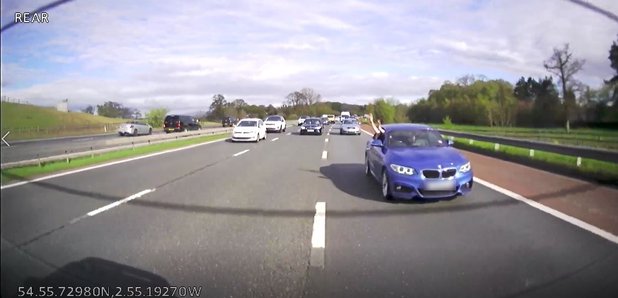 He was caught on camera during a roadblock on the M6 in Cumbria
Video footage recorded by Highways England traffic officers led to a BMW driver admitting a charge of careless driving.
Jeremy Dillon, 51, of Hespek Raise, Carlisle, was due to appear at court on Tuesday (6 Nov) but admitted the charge by post.
The court heard how, on 4 May at around 5.30pm, the Highways England officers were in a vehicle heading a rolling roadblock put into place to allow an obstruction from the carriageway at junction 44 of the M6 northbound to be removed.
As the officers began the roadblock they noticed a BMW driving very close behind them and switching lanes, giving the officers the impression he was trying to get past.
The driver was seen to remove his hands from the wheel and, at one point, wave both of his arms out of the car window.
Dillon was subsequently interviewed by Cumbria Police. He initial told officers that he felt his driving was not careless. However, his actions were captured on the Highways England vehicle's rear-facing camera.
When Dillon was shown the footage, he accepted the distance between his own car and the Highways England vehicle would amount to driving without due care and attention.
Dillon said he could not recall sticking his arms out of the car window but accepted it was a "stupid act".
He could not provide a reason for his behaviour other than being annoyed at being held up by the roadblock.
Dillon was fined £286 and received six penalty points on his licence.
Police Constable Kevin Bestford said: "The Highways England traffic officers were carrying out an important piece of work to keep all road users on the M6 safe. A successful rolling roadblock requires concentration and skilled driving and the last thing these officers needed to deal with was someone driving far too close, attempting to pass and waving their arms out of the car window.
"I hope the driver learns from this experience and comes away from it with a greater appreciation and understanding of the important work of Highways England officers."
To help boost safety for traffic officers and other road workers dealing with motorway incidents, all Highways England's 200 high-visibility traffic officer vehicles were fitted with front and rear CCTV cameras last year.

Karen Drury, regional traffic operations manager in charge of Highways England's north west traffic officers, said:

"We'd like to thank Cumbria Police for pursuing this case which is one of the first such cases in the country where footage from one of our traffic officer vehicles has helped in the prosecution of a driver. The safety of people working on our roads has to be our priority. This case is a message to all drivers that we expect them to show patience and respect to road workers who may be repairing a road or trying to get road users back on the move again after a serious incident..

"We started fitting cameras to vehicles last year and we won't hesitate to use the footage to challenge inconsiderate driving or dangerous behaviour - such as ignoring cones, red Xs, road blocks or people working in the road - putting road workers at risk of injury or death."