Five Saved Day After Fatal Cliff Fall
31 August 2018, 09:21 | Updated: 31 August 2018, 09:24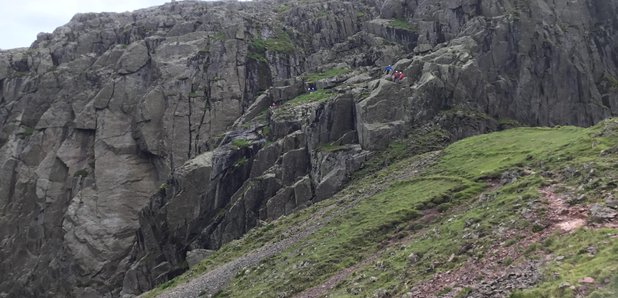 Five teens were saved from a cliff in the Lake District yesterday, a day after a man died falling from the same spot.
The group became cragfast on Broad Stand - which links Scafell and Scafell Pike.
Mountain rescuers are warning people it should only be tackled by skilled climbers with ropes.
An incident report from the Wasdale MRT read: "The team were called out at around 2.00 pm yesterday (Thursday) to what could have resulted in a repeat of the tragic fatality the day before at the same time of day.
"Five male walkers in their late teens made a navigational error on the summit of Scafell thinking they could walk directly between Scafell and Scafell Pike and found themselves cragfast on serious ground. One did manage with great difficulty to get down but only by falling and injuring his lower leg and suffering a few abrasions - fortunately he was very lucky not to have sustained more serious injuries. The remaining four had to be roped off the crag.
"The message is very clear regarding Broadstand on Scafell - it is not a walkers path, it is in fact a serious descent or ascent that should not be undertaken lightly unless you have climbing skills and a rope. Finding a route down to the final rock step in bad weather is extremely challenging. The rock is extremely slippery when damp. The route is exposed with severe drops. A simple slip can lead to a 60m to 100m fall resulting in life threatening injuries."