Government Backs Closure Of Kendal Post Office
29 November 2018, 15:05 | Updated: 29 November 2018, 15:59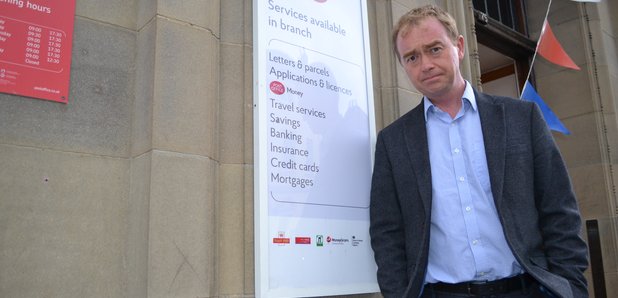 It's set to be moved into the town's WH Smith
Local MP Tim Farron has hit out at the Conservative Government after they endorsed the closure of Kendal Post Office.
Tim wrote to the minister responsible for post offices, Kelly Tolhurst MP, to make the case that relocation into the much smaller WHSmith would lead to a reduction in services and would create significant problems for people who need disabled access.
But in her reply, the minister dismissed the concerns saying that elsewhere in the country WHSmith had showed they are able to "successfully run Post Office branches" by delivering "excellent standards of customer service".
Tim has also slammed the consultation on the future of the post office after the minister said it was about "informing customers" of the "proposed changes".
Tim's petition, which calls for the relocation plans to be scrapped, has so far been signed by well over 3,000 people in the town.
Tim said: "There was not a word in the minister's reply about the problems with disabled access or how the reduction in space in WHSmith will affect services.
"Anyone who has ever been into our local WHSmith knows that there isn't room to swing a cat in there. But therein lies the problem - this decision has not been made by those who have the best interests of Kendal at heart, but people sat behind desks in London.
"If they were truly interested in what people think, then they'd be listening to the thousands of people who have signed our petition calling for the plans to be scrapped, rather than conducting a consultation which is simply there to 'inform customers of the changes'.
"We refuse to give up on our campaign - local people demand better than this sham."