Happy Birthday Grandad: Brian Turns 55
25 May 2018, 12:58 | Updated: 25 May 2018, 13:02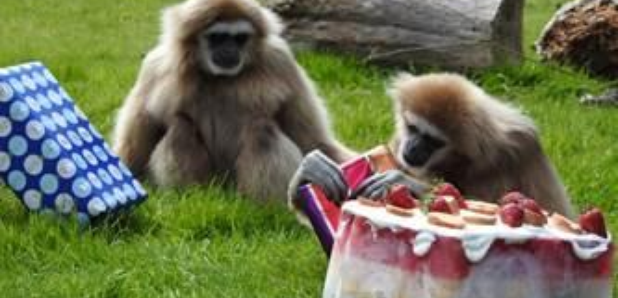 It's official - Cumbria is the home of the oldest Lar Gibbon in Europe.
'Brian' lives at The Lake District Wildlife Park near Keswick, where he's just turned 55.
The average lifespan's 44 years - earning Brian the nickname "Grandad".
Brian became an internet sensation three years ago, when his dancing skills were captured on camera by a visitor who posted the footage on YouTube.

To mark the occasion, the park's owners arranged for Brian's favourite foods to be put into his birthday cake - including peppers, green beans, cucumber, sweet potato, yoghurt and strawberries.
Brian's family wasn't left out though - they were given a selection of presents carefully prepared and wrapped by their keeper, Vicky.
Park Manager, Richard Robinson, said: "Brian's larger-than-life character has been a big hit with visitors for many years.
"Whether he's dancing, swinging, sunbathing or just surveying the view from high up in the old oak tree, Brian is always the centre of attention and some of our visitors even start dancing alongside him too!
"We don't know the precise date and time of Brian's birth for sure, but May is our best estimate, based on the original records we have from London Zoo.
"All of the keepers here just want to give him the milestone birthday he deserves, with some extra special treats."

Brian lives with his lifetime partner Sooty, and two of their offspring.