Historic Launch For Rebuilt Bluebird
6 August 2018, 06:39 | Updated: 6 August 2018, 06:44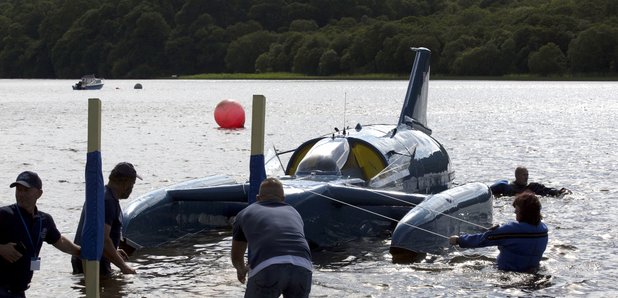 The restored powerboat in which Donald Campbell died on Coniston Water has been launched for the first time in more than 50 years.
Campbell was killed in a crash in Bluebird K7 in the Lakes in 1967, while trying to break his own water speed record.
The hydroplane ran under its own power on a Scottish loch over the weekend by the volunteers who've rebuilt it.
The Bluebird Project will now stay north of the border for more testing.
Pilot Tim Walsh was in the cockpit for Sunday's historic low-speed outing.
He said they deliberately took things steadily: "I gave it a fairly cautious start [then] moved up. I knew it would cause an awful lot of spray. I knew it was likely to cause the engine to maybe want to hesitate a little bit.
"So there was no hassle with that - that was well predicted. Pushed a load more throttle in and we were pretty much close to planing at that point."
The work's all taking place with the blessing of Donald Campbell's daughter, Gina.
She said: "I'm overwhelmed. I've been through mixed emotions. But standing here today I know that voice that said to me what had to happen, has happened. And look at it today."