Jim Bowen Dies, aged 80
14 March 2018, 14:02 | Updated: 14 March 2018, 14:11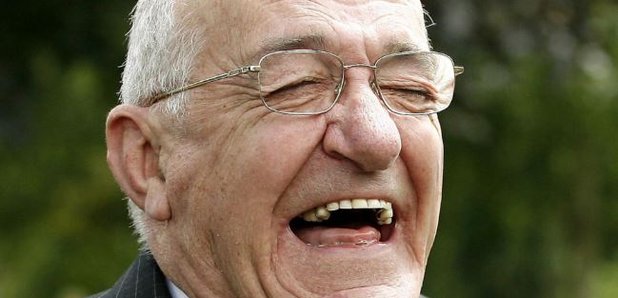 TV presenter and stand-up comic Jim Bowen has died at the age of 80.
Jim - a North Lancashire resident was perhaps best known for the 14 years he hosted the hugely popular ITV game show Bullseye.
He taught at Caton Primary School near Lancaster before becoming an entertainer, attracting large television audiences with his North country humour, his cheery disposition and his infectious catchphrases in a show which ran virtually non-stop from 1981 to 1995.
While teaching, he became involved with the local dramatic society which kindled his interest in showbusiness. In the 1960s, he worked part-time as a stand-up comedian on the northern club circuit.
The advent of Granada TV's The Comedians gave him the opportunity to appear on national TV, which helped persuade him to become a full-time entertainer.
Television opportunities followed and he appeared in Granada's The Wheeltappers And Shunters Social Club as well as Thames Television's late-night chat show Take Two.
In 1981, Bowen was appointed presenter of Bullseye, which mixed general knowledge questions with darts. The show quickly became a popular feature of ITV's schedules early on Sunday evenings, and ran for 14 years.
Several of the catchphrases he used on the programme became well-known. He would warn contestants that if they gambled and lost, all they would receive was their "BFH" (bus fare home).
"Nothing for two in a bed" referred to how contestants would win a prize by hitting the appropriate part of the dartboard, but would lose the prize if they hit it twice. His most popular phrase was "super, smashing, great".
Bowen has also appeared in TV dramas and comedies. He played a crooked accountant in ITV's 1982 drama Muck and Brass, and later guest starred in BBC1's Jonathan Creek and Channel 4's Phoenix Nights.
In 1999, Bowen began presenting on BBC Radio Lancashire, but after working there for three years, resigned after referring to a guest on his show as a "nig-nog".
He admitted that, even though he apologised for the remark almost immediately, he believed his showbusiness career was over.
But he returned to the limelight in 2005, when he performed a solo show at the Edinburgh Festival Fringe about Bullseye, called You Can't Beat A Bit Of Bully.
He returned to Edinburgh in the summer of 2006, performing at Jongleurs.
In February, 2011 he suffered two mild strokes.
Bowen is survived by wife Phyllis and two children.