Kendal Dad To Cycle For UHMBT's Neonatal
21 May 2018, 16:05 | Updated: 21 May 2018, 16:10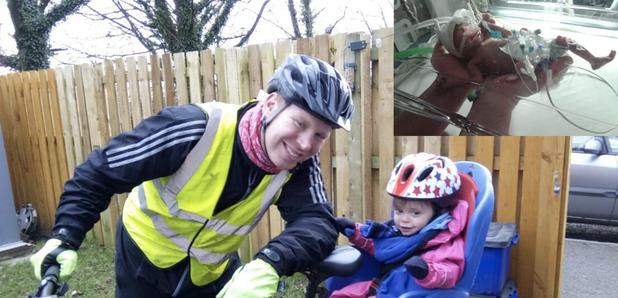 A dad from Kendal - who was told his newborn daughter only had a 50/50 chance of survival, is raising money for the UHMBT's neonatal unit in Lancaster.
Oliver Fallows is taking on a coast to coast route next month.
His daughter, Sophie, was born 26 weeks prem' - but is now happy and healthy.
Oliver, who'll ride the 138 miles from Whitehaven to Tynemouth, said: "On 9th May 2016 my daughter Sophie was born by emergency C section. She was given around 50% chance of survival being born at just 26 weeks.

"Despite set backs and many concerns she now continues to thrive and grow, enjoying life to the full as any normal toddler.

"Although Sophie is certainly a strong girl, with fighting spirit, we realise we owe so much to the staff at the Royal Lancaster Infirmary.

"If it were not for them our baby girl would not be here now. They did an amazing job.
"To help them continue this fantastic life changing work I am hoping to raise money towards new equipment in the neonatal ward."
You can help Oliver raise money by visiting his just giving page
here
.
Sue Smith, Executive Chief Nurse and Deputy Chief Executive UHMBT, said: "We'd all like to thank Oliver for undertaking this huge challenge and wish him every success.

"We look forward to watching his progress and are pleased Sophie is thriving."