Kendal Food Bank User Numbers Rise
12 April 2018, 17:17 | Updated: 12 April 2018, 17:22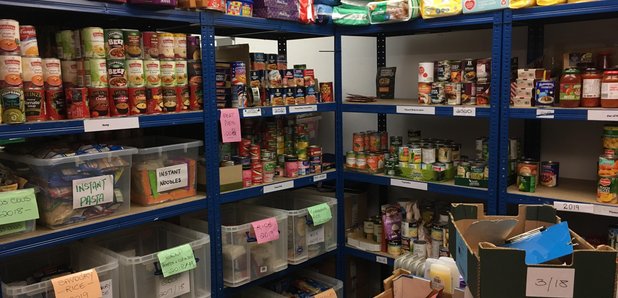 The Kendal food bank has seen user numbers rise by nearly a fifth so far this year - on top of a 34% increase throughout 2017.
The Kings food bank on Highgate is run by a team of volunteers, headed up by Alastair and Linda Sutherland.
Speaking exclusively to Heart today, Linda told us they've handed out nearly 5,000 meals since January this year alone.
Linda said: "In 2017, we provided 16,716 meals to the people in the local community. So far this year, we have provided 4,872 meals.
She contuinued by telling us that poverty can strike any family at any time: "It can be someone suddenly made redundant, a family breakdown or sickness", Linda said.
"Someone goes into hospital and they come out but they're not well and they can't work.
"Only yesterday, we had five referrals - which is quite a low number - but within those 5 referrals there were 12 children involved. That's alot of children in one day.
Linda also told Heart the figures often come as a shock to people who would otherwise picture Kendal as an affluent Cumbrian town, without any pockets of families in need.
Linda said: "I used to think that Kendal was an affluent area and I never even really thought of any kind of food deprivation in Kendal but there are pockets of poeple who actually can't provide food for themselves and their families."
Visitors we spoke to in the town centre told Heart they were shocked that a Lake District town would even need a food bank at all.
One said: "In a place like Kendal, you'd think that hopefully it wouldn't be affected that many people but clearly it does.
"I think you just don't see that side of it - tourists pass through - I just think it's something you don't see.
"I'm surprised because I always thought that Kendal was particularly affluent for a Cumbrian town.
"I don't think this country should have food banks - 5th richest country in the world? It shouldn't happen."
One man told us: "I'm Kendal born and bred, it's a shock. I would say there are some areas I would call 'deprived' in Kendal."
Another resident added: "It doesn't shock me one little bit because I know that poverty is growing."
Linda and the rest of her team are continuing to appeal for donations to help cope with the increased pressure on supplies.
During a recent visit to the food bank, South Lakes MP Tim Farron praised their work.
He said: "As inflation continues to rise while wages stay the same, sadly more and more people are struggling to feed themselves.

"That's why people who support and run foodbanks, like the King's Church here in Kendal, really are unsung heroes and do amazing work to help the most vulnerable in our community.

"Thanks to the hard-work of people like Alastair and Linda Sutherland, together with a team of committed volunteers, and the overwhelming generosity of people in our area who continue to donate food month after month, the food bank has been able to provide over 4,000 meals so far to people in need".