Kendal Town Hall Historic Clock Restored
23 March 2018, 06:00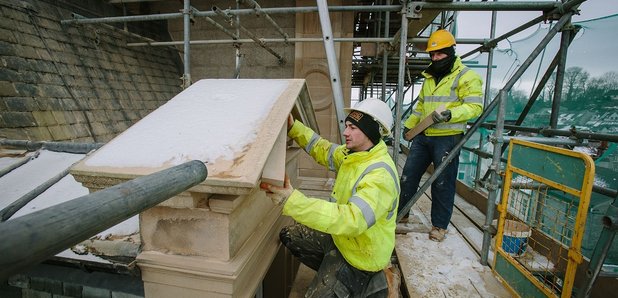 The restoration of Kendal Town Hall's historic clock tower is complete.
It's taken nine months and more than 4,000 hours of work by stonemasons to fix the 126-year old sandstone.
Councillor Matt Severn, SLDC's Portfolio Holder for Culture, Media and Leisure, said: "It is wonderful to be able to admire the clock tower which has benefitted from sensitive work of the very highest quality.
"Kendal Town Hall is treasured by local people and admired by our visitors. This work represents an important investment in a valuable part of our heritage, a much loved public building and civic centrepiece which continues to play an important role in our daily lives."
Architect Paul Grout, of Paul Grout Associates, says he was thrilled to see the scaffold coming down after a long and painstaking project: "It has been a lesson in teamwork and I hope everybody is happy with the result.
"Oddly, I don't mind if people look up and wonder what on earth we've been doing all this time, as it may look just the same. I would only ask them to look a little more closely and see if they can spot the new stones, all 188 of them, which have still to weather in.
"This is not the end of the road for the old clock tower, though. We have bought ourselves a bit of time but the sandstone will continue to deteriorate and it will need further attention by others over the coming decades.
"But let's not think about that for now. Let's just clear the decks and enjoy those bells ringing again."