Kendal Woman Helps Cut Anti-Social Crime
19 March 2018, 15:30 | Updated: 19 March 2018, 15:36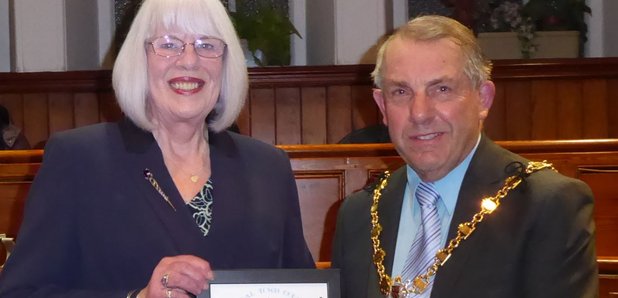 A Kendal woman has taken her second award for helping to cut anti-social behavour in the town through her community work - in less than ten months.
Among other things, Diane Horner's been recognised for helping to cut anti-social behaviour among young people in the Kirkbarrow area by setting up regular activities to keep them busy.
Now, the Wainwright Award sits proudly by her Outstanding Citizen Award, given to her by Cumbria's Police and Crime Commissioner last year.
In June 1989, world reknowned fell walker and author Alfred Wainwright donated £10,000 to the Town Mayor and Councillors of Kendal Town Council to be held in a Charitable Trust.
Each year the Trustees of the charity seek to present an award to somebody who has worked hard to promote "the prestige of Kendal".
Diane was presented with The Wainwright Award by the Mayor of Kendal this month.
It comes just a few months after Diane was awarded by Cumbria Police & Crime Commissioner Peter McCall's Outstanding Citizen Award for making a difference in the Community.