Lakes Event Raises £10,000 For Nepal
13 May 2018, 10:47 | Updated: 13 May 2018, 10:50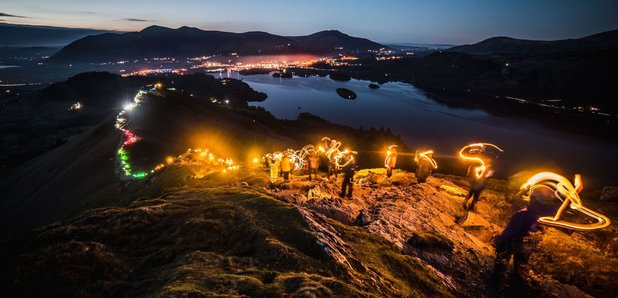 Another £10,000 has been raised for the victims of the Nepal earthquake of 2015 - at the Lakeland Festival of Light.
Catbells was lit up by hundreds of walkers earlier this month - to help survivors, three years on.
The Lakeland Festival of Light is the brainchild of Matt Le Voi, Owner of Lakes based outdoor activity company Lakeland Mountain Guides.
As a regular visitor to Nepal, Matt has ensured that every year since the 8.1 magnitude earthquake killed 9,000 people in the country it is brought back to the public eye and funds are sent to the country to aid the relief work.
This year, more than 700 people attended the event which revisited the 2016 venue of Catbells.

Matt said: "I'll never get over the generosity and support, ranging from the participants through to raffle prize donors.
"Big thanks have to go to the marshals, the National Trust for allowing us to use the mountain, Little Chamonix Café for baking so many cakes, and of course our talented team of official event photographers."
The £10,000 raised brings the total funds sent to Nepal in just three years to in excess of £40,000.