Lakes Fell Top Assessors Start Work
3 December 2018, 07:45 | Updated: 3 December 2018, 07:47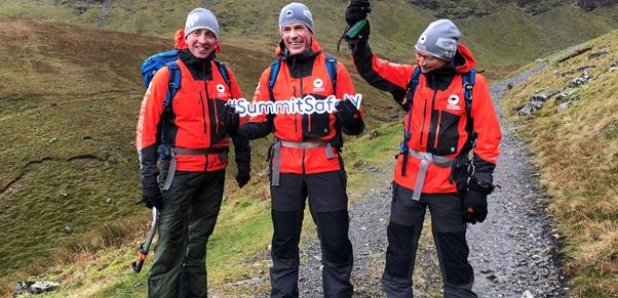 The Lakes mountains have had their first snow, meaning the National Park's Fell Top Assessors can start work.
There are three of them - they'll take it in turns to climb Helvellyn everyday between now and April.
They'll provide a report for on ground conditions and snow.
Graham Uney, one of the Lake District National Park's fell top assessors says: "This is now my fifth year as a fell top assessor and each season I have to pinch myself as I really do believe I've got one of the best jobs in the world.
"Although Helvellyn isn't the highest peak in the Lake District its east-facing position means that it's often in better winter condition than our higher fells. It's also the busiest, most popular mountain in the Lakes during the winter months, so it's important that we give detailed ground conditions reports from here throughout the season to keep walkers, climbers and skiers better informed. Our service will make sure that people can get an extremely accurate ground conditions report of what to expect on our highest fells, backed up with the latest Met Office weather forecast."
Richard Warren is a member of Wasdale Mountain Rescue Team and chairman of the Lake District Search and Mountain Rescue Association. His key message is that it is vitally important to be prepared.
He advises that traditional navigation using paper map and a compass is an essential skill for all weather conditions but especially during winter. This can be backed up with GPS technology but, he says, it's best not to rely solely on mobile phone technology.
Richard comments: "So, if you're planning a trip to the mountains this winter we urge you to plan your day, when there is snow on the tops an ice axe and crampons are essential pieces of kit, and know your limitations. If you're unused to navigating in the dark, it can be extremely disorienting.
"Sometimes, the bravest decision is to turn around and go back. Those peaks will still be there another day."
Darryl Ramage and friend Lynne Morrison were the winners of a National Park competition, selected from over 1,000 entries to accompany the fell top assessors on their season launch and take part in a private winter skills course.
Darryl from Dumbarton in Scotland said: "We're frequent walkers in the hills and mountains of Scotland have been all over Europe on expeditions. From Germany to Poland to Slovenia to Italy but we've never been lucky enough to climb in the Lake District so we are realising a lifetime ambition today.
"We've been following Weatherline for the last couple of weeks and were celebrating the first fall of snow on the fells, it's a fantastic resource to make sure you get an accurate idea of the weather and conditions on the fell tops.
"Although we are both quite experienced climbers we are by no means experts so we are absolutely delighted to be learning from the best today. We've picked up a lot of safety information and numerous hints and tips. It's been great. We can't wait to get back to the Lake District soon to put our new skills to good use."