Lakes Line Plans Cancelled Due To Money
29 March 2018, 14:09 | Updated: 29 March 2018, 14:20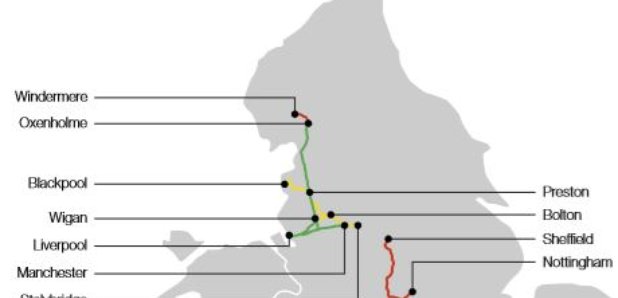 An investigation into the government's cancellation of plans to electrify the Lakes Line between Oxenholme and Windermere has found that it's all down to money.
The Department for Transport said passengers would feel more benefit with the use of hybrid trains instead.
But the National Audit Office has found that Network Rail didn't have enough money to fund it.
In July 2017 the Secretary of State for Transport announced the cancellation of three electrification projects - including the plans for the Lakes Line.

That followed an earlier commitment by the Department for Transport in 2012 where it identified rail electrification as a strategic priority - announcing £3 billion of electrification schemes.

In his cancellation announcement, the Secretary of State said the projects were cancelled on the basis that it was no longer necessary to electrify every line to deliver passenger benefits.

He added that passenger journeys on the Lakes Line could be improved sooner than expected though, by using "state of the art trains" which can transfer from diesel to electric power without passengers being aware of the switch.

However, the report from the National Audit Office concluded: "While the availability of alternative means of delivering passenger benefits was important, the major reason for cancellation was affordability.

"The Department decided to cancel projects because Network Rail could no longer deliver its 2014-19 investment programme within the available funding.

"Network Rail found that the cost to complete planned works exceeded the available funding by £2.5 billion.

"In late 2016, the Department and Network Rail found that plans to raise and retain £1.8 billion to reduce the funding shortfall, through asset sales, were unachievable.

"They decided to cancel projects to help address the shortfall."

Commenting, South Lakes MP Tim Farron told Heart: "Today's revelations completely dispel the Government's made up excuses that electrification was cancelled to protect the Lake District's environment or because it wouldn't deliver any benefits to passengers.

"The simple truth is they decided to pull the plug because they weren't prepared to cough up the cash for our area and in doing so, misled and betrayed local people.

"Electrification was frankly a no brainer and had the backing of everyone, from commuters to local businesses to the National Park.

"The Government needs to stop taking us for granted and rethink their decision."
You can see the report
here
.