Lakes MP slams government's hospital tax
11 September 2018, 07:24 | Updated: 17 September 2018, 06:11
Local MP Tim Farron has criticised the Government for refusing to back down their taxing of Morecambe Bay Hospital Trust.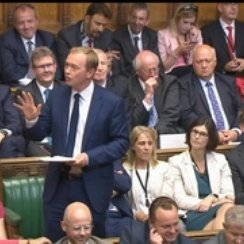 Mr Farron claims the measures put in place are robbing local hospital trusts of millions of pounds.
In July, the Lakes MP wrote to the Chancellor, Phillip Hammond, asking for it be scrapped immediately.
However, the Government replied saying their policy is applied across all NHS providers and that they would not be backing down.
Speaking to Heart, Tim Farron said: "Every year, the Government takes two million pounds from our local hospitals budget to be taxed back to the centre.
"Two million pounds is the equivilent to paying the salary of 60 nurses every year."
"Our local hospital trust is providing excellent health care services for us locally.
"For the 'crime' of paying for enough local hospitals for us in our area, our government has decided to tax them just simply for existing."
Mr Farron also hit out at the Conservatives for not taking into consideration the rural area for local patients in Cumbria and North Lancashire. Some having to travel hours to a hospital just for a check up.
"We have hospitals across the Morecambe Bay area in Kendal, Barrow and Lancaster - We only get the money from the government as if we had one hospital, which is the government completly ignoring the rural nature of where we live.
"This shameful tax on local patients must end now."