Lancaster Castle Picked For WW1 "Tommy"
13 May 2018, 10:34 | Updated: 13 May 2018, 10:37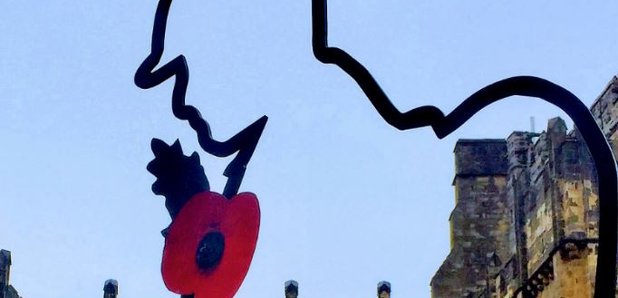 Lancaster Castle has been chosen as one of three Lancashire locations for an iconic "Tommy" figure, to mark 100 years since the end of the First World War.
It's part of a campaign that aims to raise £15 million for armed forces and mental health charities.
The Lord-Lieutenant of Lancashire, Lord Shuttleworth said: "The There But Not There campaign is a hugely worthwhile cause, honouring those men – local and afar - who made the ultimate sacrifice and raising money for those in need today.
"We want the whole community to show their support for the charity and encourage businesses to get on board during this important year of commemoration."
Alongside the touring Tommies, local community groups, such as schools, businesses, places of worship and village halls will be given the opportunity to host their own 'silhouette installations'.
It is hoped that communities will honour the fallen listed on their own local war memorials, by placing a silhouette for every man that fell in local community spaces.
There But Not There Patron, Lord Dannatt said: "Our hope is that more regional organisations across the UK will follow in the footsteps of Lancashire County Council.
"Their commitment to the There But Not There campaign is vital in securing support and raising funds across the county.
"We would encourage all Lancastrians to visit the local Tommy installations, galvanise support in their community groups to buy silhouettes and purchase their own smaller Tommies to remember their fallen relatives.
In Morecambe, the town's Business Improvement District team's bought 1,000 giant poppies to support the Royal British Legion.
The Morecambe BID is urging businesses to get behind the scheme by displaying them prominently.
Two giant poppies can be purchased for £3 from the following locations: 13 the Warehouse, Queen Street; The Management Suite at Arndale Morecambe; The Little Shop of Hobbies in Pedder Street, and Briggs Shoes, Marine Parade.